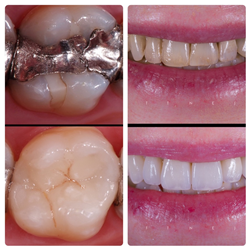 I am thrilled to expand my services and open the door for more opportunities to educate others about biomimetic dentistry. This holistic approach can undoubtedly take restorative dental care to the next level, says Dr. Nejad
BEVERLY HILLS, Calif. (PRWEB) April 18, 2019
Dr. Matt Nejad is a lead dentist at an upscale dental practice in Beverly Hills that offers a full menu of cosmetic and general dental care services. Dr. Nejad is most known for his superior cosmetic treatments and sought-after expertise in biomimetic dentistry, which relies on minimally-invasive techniques in restorative dentistry. Biomimetic dentistry uses a more holistic approach than traditional "fill and drill" focused dentistry in order to preserve natural tooth structures and deliver longer-term results when treating damaged teeth. In many cases, patients can avoid the need for root canals, tooth removal and dental crowns by taking the Biomimetic approach.
"I am thrilled to expand my services and open the door for more opportunities to educate others about biomimetic dentistry. This holistic approach can undoubtedly take restorative dental care to the next level," says Dr. Nejad of Helm Nejad Stanley Dentistry. "Especially looking forward to taking the message of biomimetic dentistry to the U.K. in September!"
Dr. Nejad is both a practicing biomimetic dentist as well as a leading educator in the field. In fact, his passion for teaching biomimetic dentistry techniques has recently led him to expand his services by launching a cost-free Biomimetic Course Website, http://www.freebiomimeticdentalcourse.com, where consumers can learn why biomimetic dentistry is a preferred dental specialty. This online course in natural dental care includes high-resolution, info-packed videos to help people understand the drawbacks traditional drill and fill dentistry and how biomimetic techniques offer a solution.
In addition to the new website, Dr. Nejad also plans to expand his education opportunities abroad this fall. Dr. Nejad will be teaching Level 1 Biomimetic Dentistry Training classes on September 14th – 15th at The Gherkin Building in London and on September 21st – 22nd at the Science and Industry Museum in Manchester. Organized and hosted by Grant | Schwartz Business Consulting, these two-day, hands-on courses will cover the core science, techniques and materials of biomimetic dentistry and focus on how this dental specialty utilizes a conservative, holistic treatment approach when restoring damaged teeth. For more information or to register for Dr. Nejad's Biomimetic Courses in the UK, please visit http://www.grantschwartz.com/conferences.
Dr. Nejad also teaches multiple Biomimetic Training classes in the United States throughout the year to those interested in implementing biomimetic dentistry techniques in their own practice. To see his domestic Schedule & Course Details please visit https://www.biomimeticdentistryce.com/courses
More About Dr. Matthew Nejad of Helm Nejad Stanley Dentistry:
The Beverly Hills dental team are experts in their respective fields. Dr. Matt Nejad is renowned for his advanced biomimetic and cosmetic dentistry expertise. He is also at the forefront of dental education. He teaches at USC School of Dentistry with his world-renowned mentor Dr. Pascal Magne, the "father of biomimetic dentistry." Dr. Nejad has earned prestigious awards for his expertise and has been featured in multiple respected publications, including The New York Post, Women's Health, Prevention magazine and more. For more information about Dr. Matthew Nejad or his elite, cutting edge services in Beverly Hills, CA please visit beverlyhillsladentist.com or call (310) 278-0440.
More About Grant | Schwartz Business Consulting:
Grant | Schwartz Business Consulting has a distinguished track record of enabling businesses in all industries to improve their performance and grow their operations by solving problems and finding new and better ways of doing things. Visit them at https://www.grantschwartz.com or call Peter Schwartz at 520-609-2921. They are certified via the independent Continuing Professional Development (CPD) accreditation institution operating across industry sectors to complement the Continuing Professional Development policies of professional institutes and academic bodies.