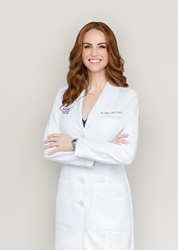 The texturing of the implant, either provides a place for bacteria to live or causes chronic mechanical irritation of the capsule itself, says Dr. Killeen
LOS ANGELES (PRWEB) August 05, 2019
Beverly Hills plastic surgeon Dr. Kelly Killeen appeared on Fox 11 Good Day LA to discuss the FDA's recent worldwide recall of Allergan's textured breast implants due to their association with a rare cancer of the immune system called anaplastic large-cell lymphoma that develops in the tissue around the implant.
While the link between these breast implants and cancer has been suspected for nearly two decades, Dr. Killeen explains, the number of reported cancer cases and deaths associated with the Allergan Biocell textured breast implants has notably increased over the years. On July 24th, The New York Times released an article about Allergan's voluntary recall and the FDA findings that support the decision, which included that "worldwide, 573 cases and 33 deaths from cancer have been reported, with 481 of the cases clearly attributed to Allergan Biocell implants."
On the Good Day LA segment, Dr. Kelly Killeen educated the audience about the FDA's announcement as well as explaining why the textured implants carry a higher risk. "The texturing of the implant," Killeen says, "either provide a place for bacteria to live or causes chronic mechanical irritation of the capsule itself." Dr. Killeen also urged patients with breast implants to follow up yearly with their surgeon and stay aware of the potential dangers of their specific brand and type of implant. In most cases, removing the textured implant and the scar tissue around it can cure cancer, but if it is not detected early it can spread and kill the patient. The condition has occurred in women who have gotten implants for cosmetic breast enlargement as well as in women who received them for reconstruction after mastectomy for breast cancer.
Dr. Killeen is a double board-certified plastic surgeon who specializes in revision breast surgery and breast reduction surgery at Cassileth Plastic Surgery in Beverly Hills. She also performs tummy tucks, eyelid and brow lifts, facial fat grafting and "mommy makeovers". She is known for stellar patient care and excellent surgical results.
More About Dr. Kelly Killeen:
Dr. Kelly Killeen is a double board-certified by both the American Board of Surgery and the American Board of Plastic Surgery. She received her medical degree from Loma Linda University School of Medicine in Loma Linda, California, and completed her residency in plastic surgery at the Oregon Health & Science University Hospital in Portland, Oregon, where she served as Chief Resident. She completed her residency in general surgery at Cedars-Sinai Medical Center in Los Angeles under the direction of Dr. Lisa Cassileth, where she was recognized for her outstanding academic achievement in surgery, leadership, and clinical performance. After developing a robust surgical practice in Kansas, Dr. Killeen moved back to Los Angeles and is now one of four talented physicians at Cassileth Plastic Surgery
For more information about the Allergan textured breast implant recall or to schedule a consult with Dr. Kelly Killeen in Beverly Hills, please visit http://www.drcassileth.com or call (310) 421-4063.