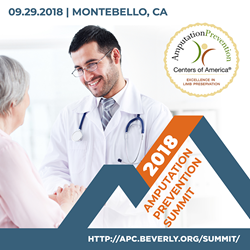 Limb salvage is a viable alternative, often producing better outcomes than amputation.
MONTEBELLO, Calif. (PRWEB) September 18, 2018
Beverly Hospital will be hosting its first Amputation Prevention Summit on Saturday, September 29, 2018 on the hospital campus at 309 West Beverly Boulevard, Montebello, California, drawing clinicians from the greater Los Angeles area.
This educational event will highlight the urgent nature of the diabetes epidemic— diabetes being among one of the top ten leading causes of death in California and the leading cause of non-traumatic lower extremity amputation. Guest speakers will share important data, current trends in limb salvage and best-practices in the battle against diabetes-related complications. They will also discuss ways healthcare professionals can improve their practices in order to reduce lower extremity amputations.
A person with diabetes has a risk of leg amputation that is 15-40 times greater than a person without diabetes. Within two to four years of unilateral limb loss, one-third of all patients lose the other leg. Only about 50% survive more than five years following a leg amputation. With the future incidence of diabetes projected to rise to 550 million people worldwide by the year 2030, limb salvage is becoming a viable alternative, often producing better outcomes than amputation.
The summit will be led by Medical Director for Amputation Prevention Centers of America® and recipient of the "America's Most Influential Podiatrist" award Lee Rogers, DPM. Featured speakers include Founder and President of Save a Leg, Save a Life Foundation Desmond Bell, DPM, Medical Directors for Beverly Hospital Amputation Prevention, Wound Care and Hyperbaric Medicine Charles Ananian, DPM and Babak Dadvand, MD, as well as speakers across multiple disciplines, such as plastic surgery, endocrinology, epidemiology, interventional radiology and nursing management.
To register for the summit or for additional information, please visit apc.beverly.org/summit.
About Beverly Hospital
Beverly Hospital is a not-for-profit, independent 202-bed acute care facility focused on providing compassionate and quality health care to the San Gabriel Valley since 1949. From emergency room and hospitalization to outpatient procedures, Beverly Hospital offers a full range of services with the latest technology on diagnostic and treatment options. A medical staff of almost 400 physicians, representing a wide spectrum of specialties, is supported by experienced and dedicated employees and volunteers, who strive to deliver high-tech, high-touch services, preventive education and patient care. For more information, visit http://www.beverly.org
About Amputation Prevention Centers of America®
Amputation Prevention Centers of America® is an exclusive offering from RestorixHealth, the premier provider of wound center management solutions. An Amputation Prevention Center® is a surgically focused inpatient/outpatient program operating in conjunction with the comprehensive wound center, that specializes in treating patients with limb-threatening conditions, such as diabetic foot ulcers. For more information, visit http://www.restorixhealth.com.