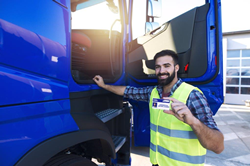 One available career alternative, suggests Brad Ball, President of Roadmaster Driving School—and one that in his view should be much more widely known than it is—is commercial long-haul truck driving. Trucking, he notes, is a key component of the national economy.
ST. PETERSBURG, Fla. (PRWEB) July 06, 2020
According to a recent survey by the Brookings Institution, of the five economic sectors at highest risk of being negatively affected by the COVID-19-driven economic slowdown, number one is mineral extraction: mining and the oil & gas industry.(1) More than 140,000 people in Bexar County have filed for unemployment since mid-March. That's about 16 percent of all workers in the county. New unemployment claims statewide have remained at historic levels nearly three months after the coronavirus pandemic forced an economic shutdown.(2) "The oil business," says Brad Ball, President, Roadmaster Driving School, "has always been a boom-and-bust industry. But this is really a major bust, and it's causing a lot of people to take a second look at their lives."
As an indication of the seriousness of the situation, the average global monthly price for Brent crude oil, a widely used index, fell in April to $18.38 per gallon, 42% down from March and 74.2% below the May 2019 price of $71.32.(3) Thousands of energy-sector workers have been laid off in Texas in recent weeks, and according to a University of Houston survey, nearly 40% of these workers are concerned about being able to pay their mortgage and other bills during the coming year.(4) Many have expressed a determination to leave the energy sector altogether.(5)
One available career alternative, suggests Ball—and one that in his view should be much more widely known than it is—is commercial long-haul truck driving. Trucking, he notes, is a key component of the national economy. One student at Roadmaster's San Antonio school, Michael Torres, recently got a new lease on life after COVID-19 put him out of work.
Torres was laid off from the oil industry, where his working hours, he said, were erratic and inconsistent. In fact, he appreciates that his future now will involve a steadier income to support his family. "After an open-road training, I will apply for a route that will allow me to spend more time at home," he said.
Nearly 71% of all freight tonnage in the U.S. moves by truck, requiring millions of heavy-duty Class 8 trucks and a corps of more than 3.5 million professional drivers.(6) Moreover, there exists, even in the middle of the coronavirus crisis, a severe shortage of truckers. According to the American Trucking Associations, the industry needs—and could almost immediately absorb—more than 60,000 new drivers.(7) Amazon, for example, has announced plans to hire 100,000 new employees, including drivers, for its warehousing and delivery operations in the U.S.(8) Walmart, another retail giant, plans to increase its trucking fleet by 500 drivers in 2020. Walmart drivers, notes Ball, earn an average of $87,500 per year.(9)
"There is a wide-open pathway to good, stable employment," says Ball, "and it's fast. The normal training time to earn a commercial drivers license is about four weeks, after which the new driver can simply walk into a new job. Many trucking companies will pick up the cost of training for a new hire, and some will even pay a salary during the training period. If you're in Texas—or anywhere else—and want to change your professional life, I strongly suggest that you look into it."
Another sector that is benefitting from learning how to drive a truck is older people who are laid off and who can quickly start a new career. Such was the case of Luis Galan.
"Me being an older gentleman… I appreciate what I'm doing and what my instructors do. They're teaching me, an older guy, they're helping me change my life. I'm happy and humbled to be here," he said.
Ball points out the nine biggest reasons students like Torres and Galan are flocking to trucking right now.
1. Travel and See the Country: People looking to get a new skill, or a change of pace—and want to see the country in a different way.
2. Starting Salary $47K: One can get a full Commercial Driver's License (CDL) license on location to start as a fully trained Truck Driver and embark on a whole new career, with a starting salary of $47,000-plus to start.
3. High Demand: There's a shortage of about 50,000 drivers expected to grow to maybe 160,000 drivers by 2028.
4. Short Runway: People that are underemployed or unemployed can go through a class that's three to four weeks long and learn how to drive a truck.
5. No College Degree? No Problem: No college degree required.
6. Pre-Hire Opportunities: Students come in with a job in hand, a pre-hired opportunity. Students go from in three-to-four weeks to working full time, running safely, making money.
7. Everything Taught On-Location: All lessons are taught right on location at the driving school service area at the school location.
8. Make More Money Driving: Students coming from jobs like UBER with a passion for driving but want to make more money.
9. In-House Tuition Financing-Reimbursement: Some driver training schools, like Roadmaster, offers in-house financing for training and has a tuition reimbursement program.
About Roadmaster Drivers School:
Roadmaster, headquartered in St. Petersburg, FL, is a nationwide training organization for truckers. They have more than 25 years of experience training more than 100,000 graduates with 13 training locations nationwide. By focusing on giving students the best education and maintaining high job placement standards, Roadmaster has gained a national reputation in the trucking industry for quality training of entry-level commercial truck drivers—noted for their training practices to be the most hands-on and safety-focused training in the country. Need data about their San Antonio School here. For more information, visit http://www.roadmaster.com.
1. Muro, Mark, et al. "The Places a COVID-19 Recession Will Likely Hit Hardest." Brookings, 17 June 2020, brookings.edu/blog/the-avenue/2020/03/17/the-places-a-covid-19-recession-will-likely-hit-hardest/.
2. Rivard, Robert. "Week 16 in Review: Bexar County Job Losses Mount." The Rivard Report, 31 May 2020, therivardreport.com/week-16-in-review-bexar-county-job-losses-mount/
3. "Brent Monthly Crude Oil Price 2019-2020." Statista, 16 June 2020, statista.com/statistics/262861/uk-brent-crude-oil-monthly-price-development/.
4. "Coronavirus and Downturn Slam America's Oil Patch." Los Angeles Times, Los Angeles Times, 4 May 2020, latimes.com/world-nation/story/2020-05-04/coronavirus-and-downturn-slam-americas-oil-patch.
5. Biediger, Shari. "Jobless San Antonians 'Make Hard Decisions' as Pandemic Roils Economy." Rivard Report, 15 May 2020, therivardreport.com/san-antonio-texas-unemployment-coronavirus-pandemic-economy/.
6. "ATA Truck Tonnage Index Fell 1% in May." American Trucking Associations, trucking.org/news-insights#:/
7. Black, Thomas. "U.S. Truck Driver Shortage Is On Course to Double in a Decade." Bloomberg.com, 24 July 2019, bloomberg.com/news/articles/2019-07-24/u-s-truck-driver-shortage-is-on-course-to-double-in-a-decade.
8. Lardinois, Frederic. "Amazon Is Looking to Hire 100,000 Employees to Keep up with Demand." TechCrunch, 16 Mar. 2020, techcrunch.com/2020/03/16/amazon-is-looking-to-hire-100000-employees-to-keep-up-with-demand/.
9. "Walmart Hiring 500 Truck Drivers | Markets Insider." Business Insider, Business Insider, markets.businessinsider.com/news/stocks/walmart-hiring-500-truck-drivers-1028981609#:/