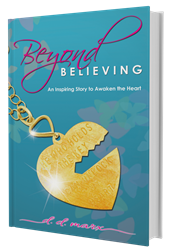 Life is what YOU make it. Regardless of your past, your future is bright!
(PRWEB) September 24, 2014
Author D.D. Marx wrote her novel, Beyond Believing, with one question in mind: what if she were able to visit with her best friend one last time? The book is an inspiring, funny, and romantic novel rooted in Marx's own life: her best friend, Dan, died tragically in a car accident in 1993. Ever since, she has felt as though his presence has continued to touch her life in new and unexpected ways.
Marx, who frequently blogs about chick lit, spirituality, and writing, has always had a gift for storytelling. A graduate of Chicago's renowned Second City program, her wit and friendly, relatable demeanor come through in all her writing. Marx tells the story on her friend Dan's passing with grace and candor, admitting that she felt as though the void in her heart would never be filled. Eventually, she was able to move on, but she always felt that Dan was guiding her.
Constantly inspired by female writers and even discussing meeting some of her favorites in her blog, D.D. Marx has become part of the tradition of fun, romantic and witty literature she loves so dearly. Beyond Believing is, in fact, the first book in a trilogy, and will be followed by Beyond Love and Beyond Forever. In the books, a fictionalized version of her dear friend Dan helps Olivia, the novel's protagonist, navigate the life that is crumbling around her while she nurses her broken heart. They demonstrate Marx's own belief that hope and love can guide one out of the darkest of times.
Marx hopes to continue to honor and remember Dan in all aspects of her life. Her Site even includes an, "Ask Dan," page, where readers can consult Dan about any question they've been having difficulties with and perhaps feel closer to loved ones they themselves have lost.
D. D. Marx
D.D. Marx is a contemporary romantic fiction writer and blogger, as well as a lover of all things social. She is a graduate of the University of Dayton, as well as the Second City program in Chicago. A proud aunt and self-described hopeless romantic, Marx has always had a knack for humorous and engaging storytelling. Her pen name is a dedication to her beloved friend Dan, who continues to guide and inspire her in her daily life.