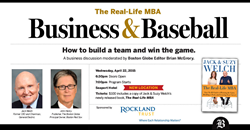 Boston, MA (PRWEB) April 21, 2015
The Boston Globe will host an entertaining and thought-provoking evening focused on baseball and business leadership. The Real Life MBA: Business and Baseball event will be held at 6:30 p.m. on Wednesday, April 22, at the Boston Seaport Hotel.
Jack Welch, executive chairman of the Jack Welch Management Institute and former chairman and chief executive officer of General Electric Company, and John Henry, owner and publisher of the Boston Globe and principal owner of the Boston Red Sox. They will be joined by moderator Globe editor Brian McGrory, with opening remarks by Globe business columnist Shirley Leung. The evening event is presented by Rockland Trust Bank.
People interested in attending The Real Life MBA: Business and Baseball should register online at Eventbrite. Tickets are $100 per person, and attendees will receive a copy of Welch's new book, THE REAL-LIFE MBA: Your No-BS Guide to Winning the Game, Building a Team, and Growing Your Career, written with his wife, Susy Welch, a best-selling author, television commentator, and noted business journalist who is the former editor of Harvard Business Review. The book shares the couple's insights into how to succeed in business today, and how to have fun while you're at it.
During Welch's tenure leading GE, the company became the world's most valuable corporation and was consistently voted the most admired company in the world by Fortune magazine. Since 2001, Welch has been extremely active in private equity and consulting, working with dozens of businesses of every size, in a wide variety of industries. Along with writing and speaking to upwards of a million people around the world, Welch has used his post-GE years to found and lead the Jack Welch Management Institute, which offers an Executive MBA, now with over a 1,000 students.
"I am looking forward to sharing insights and lessons about leadership, team building and what it to takes to compete and win, whether on the diamond or in the boardroom, in today's highly competitive global marketplace," said John Henry, publisher of the Boston Globe.
Henry, owner and publisher of the Boston Globe, is principal owner of the Boston Red Sox and Liverpool F.C. For more than 31 years, Henry has served as chairman of John W. Henry & Company, Inc., which he founded in 1981. He has served on the board of directors of the Future Industry Association, National Association of Futures Trading Advisors, and the Managed Futures Trade Association. He was elected to the Futures Industry Association's Hall of Fame as a recognized leader in alternative-asset financial product innovation.
McGrory, a 23-year veteran of the Boston Globe, was previously a Metro columnist and associate editor. Born and raised in the Boston area, he has also worked as the Boston Globe's metro editor, White House reporter, national reporter, general assignment reporter, and suburban reporter.
Leung is a business columnist for the Boston Globe. Previously she served six years as the business editor overseeing daily and Sunday coverage, as well as producing the Globe 100 and Top Places to Work magazines.
NESN, the television home of the Boston Red Sox and the 8th Most Valuable Sports Business Brand in the World according to Forbes, will have its cameras on-hand to produce a one-hour special on the Business of Baseball event. NESN will air the program on Saturday, April 25th at 5:00 pm, prior to the network's regularly scheduled coverage of the Red Sox vs. Baltimore Orioles game at Camden Yards at 7:00 pm.
Rockland Trust Company is a full-service commercial bank headquartered in Massachusetts. It offers a wide range of banking, investment, and insurance services to businesses and individuals through retail branches, commercial lending offices, investment management offices, and residential lending centers located in eastern Massachusetts and Rhode Island.
About Boston Globe Media Partners, LLC
Boston Globe Media Partners, LLC provides news and information, entertainment, opinions, and analysis through its multimedia properties. BGMP includes the Boston Globe, BostonGlobe.com, Boston.com, Cruxnow.com, BetaBoston.com, and Globe Direct.