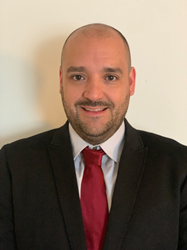 "Jamir's decade of experience with eDiscovery platforms and services has greatly equipped him for this new role," said Brian Schrader, BIA's president. "We are incredibly thankful for all that he does and are glad to be able to recognize his great work."
NEW YORK (PRWEB) August 13, 2019
BIA, a leading national eDiscovery and digital forensics company, announced today the promotion of Jamir Munoz to vice president of litigation technology.
Munoz's leadership within BIA's team of litigation technology specialists will help further BIA's reputation for excellent customer service, innovative solutions and superior workflows. His long experience both within the industry generally and at BIA specifically will ensure that his team has an experienced leader ready to take on any unique needs or challenges the team may encounter.
"Jamir's decade of experience with eDiscovery platforms and services has greatly equipped him for this new role," said Brian Schrader, BIA's president. "He is constantly looking for, developing and training his team on new systems and processes to improve the quality and efficiency of our work. We are incredibly thankful for all that he does and are glad to be able to recognize his great work."
Munoz joined BIA's New York headquarters as an associate director in 2009, where he was responsible for managing a team on multiple projects, handling day-to-day communications with clients and training employees on new product and software releases, among other things. He received his bachelor's degree from Baruch College – The City University of New York.
"Not only are we celebrating Jamir's promotion, but also his 10-year anniversary as a go-to problem-solver in the operations side of the company," said Mark MacDonald, BIA's senior vice president of business development. "Jamir is an outstanding teammate, a great guy—and a heck of a DJ! We're proud to witness his successes throughout the years."
About BIA
As an industry pioneer, BIA continues to set the standard for reliable, innovative and cost-effective eDiscovery services. Its customer-first focus has resulted in countless innovations copied widely across the industry today. From technical innovations like truly remote data collections and the first cloud-based, end-to-end eDiscovery platform to service revolutions like reusing data and coding across matters and hiring dedicated, full-time employees for document review, BIA consistently stands at the leading edge of the industry. Founded by legal and technology professionals, BIA provides the entire spectrum of eDiscovery services – including attorney document review – with minimal disruption to its clients' daily business operations. To learn more, visit BIA at http://www.biaprotect.com or on Twitter at @biaprotect.