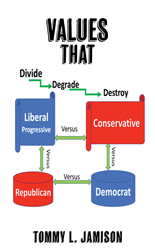 The book uses history, statistics, common sense, and biblical realism to expose our divisions and the 'values' which create them
HERNANDO, Miss. (PRWEB) June 20, 2019
Tommy Jamison is not the only one concerned about the hostility caused by the political, social and religious division throughout the U.S., but he has spent considerable time studying it for his new book, Values that Divide – Degrade – Destroy ($24.99, paperback, 9781545666258; $9.99, e-book, 9781545666265). He claims that the struggle is an ideological one and must be addressed at the roots if the nation is to survive intact.
The issues that are corroding our country cannot be fixed by Band-Aids covering the surface. Those seeking solutions must dig deeper and be willing to make bigger, longer lasting changes.
"The book uses history, statistics, common sense, and biblical realism to expose our divisions and the 'values' which create them," said Jamison.
Tommy L. Jamison is a Licensed Professional Engineer and a statistician. He holds an AD in Applied Science, a BS in Engineering, and an MS in Applied Statistics. In addition to his patents in metallurgy, metrology, and pressure piping, he has authored and coauthored papers in patented areas. He has also taught the Bible for 40 years and authored What Christians Need to Know About The Quran and Islam under the pen name John J. Isaias.