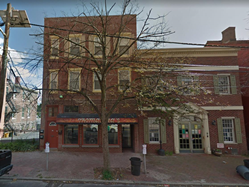 I make sure all my food is made with love and I know that my mother is with me every step of the way.
TRENTON, N.J. (PRWEB) September 24, 2019
Trenton, New Jersey is welcoming a new business to the busy downtown area. African-inspired cuisine will soon be served at 241 East Front Street, located in the heart of the Trenton State Government office buildings. The property has been vacant since former soul food eatery Thomasena's occupied the space last year, waiting for the perfect tenant to take over.
According to Barry J. Bielat of Bielat Santore & Company, Allenhurst, New Jersey, the broker for the transaction, the new operator of the 2,500 square foot restaurant is culinary chef, Trachele Johnson. The first-time restaurant owner is eager to immerse others with her cooking-style, which she learned from her mother growing up. After her mother's passing, she started an at-home business named after her mother, Tracey's Kitchen, pursuing her passion in the culinary arts. "I started off making African food around the house weekly for my mom and sister. Everyone used to love it," said Johnson. "As the years grew, my clientele grew as well, so I decided to add other dishes to my menu including macaroni and cheese, yams, fried chicken, fried fish etc. As time grew on, I realized that cooking is something I loved doing. I make sure all my food is made with love and I know that my mother is with me every step of the way."
Johnson's plans for the restaurant are to honor her mother's memory and inspire others with her cooking just as her mother did to her. "My mother made sure everyone ate. Just as I do in my kitchen daily, she made sure our entire neighborhood was well fed," said Johnson. "Even though I miss her presence every day, I know her spirit lives through me with the blessing of food."
The grand opening will be on October 1, 2019, Johnson's mother's birthday. "Even though this will be a new experience outside of my kitchen," said Johnson, "I am completely ready to excel and learn new things that will come my way. I appreciate Keith DiGrazio and Barry Bielat for giving me this opportunity."
About Bielat Santore & Company
Bielat Santore & Company is an established commercial real estate firm. The company's expertise lies chiefly within the restaurant and hospitality industry, specializing in the sale of restaurants and other food and beverage real estate businesses. Since 1978, the principals of Bielat Santore & Company, Barry Bielat and Richard Santore, have sold more restaurants and similar type properties in New Jersey than any other real estate company. Furthermore, the firm has secured in excess of $500,000,000 in financing to facilitate these transactions. Visit the company's website, http://www.123bsc.com for the latest in new listings, property searches, available land, market data, financing trends, RSS feeds, press releases and more.