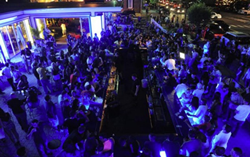 SEASIDE HEIGHTS, N.J. (PRWEB) November 08, 2019
Two popular New Jersey nightclubs are on the market according to Barry J. Bielat and Richard R. Santore of Bielat Santore & Company, Allenhurst, New Jersey, the brokers handling the marketing and sale of both properties. The owner of prominent dance clubs Karma and Bamboo Bar, located in the resort town of Seaside Heights, New Jersey, filed for Chapter 11 Bankruptcy earlier this year, prompting the decision to sell. The well-known nightclubs rose to fame after being featured on the hit MTV reality show, Jersey Shore as favorite party spots for the cast members.
The beachfront community of Seaside Heights has always been a popular tourist destination. Known for its family-friendly beach and boardwalk, Seaside Heights offers amusements all year long including live music, films, parades, and fireworks. Local businesses capitalize during the beach season where summer population explodes to nearly 65,000 visitors. The summer season runs from April to October, with the peak months being July and August.
In 2012 Superstorm Sandy destroyed most of this popular Jersey shore resort and although most of the Oceanfront Boardwalk has been rebuilt, the businesses on the Boulevard, including Karma and Bamboo Bar have never been able to fully recover. While Karma officially dimmed the lights to party-goers this past Spring, Bamboo Bar remains open to the public.
If interested in more information regarding these properties, please contact Barry J. Bielat or Richard R. Santore at 732.531.4200 or visit http://www.123bsc.com.
About Bielat Santore & Company
Bielat Santore & Company is an established commercial real estate firm. The company's expertise lies chiefly within the restaurant and hospitality industry, specializing in the sale of restaurants and other food and beverage real estate businesses. Since 1978, the principals of Bielat Santore & Company, Barry Bielat and Richard Santore, have sold more restaurants and similar type properties in New Jersey than any other real estate company. Furthermore, the firm has secured in excess of $500,000,000 in financing to facilitate these transactions. Visit the company's website, http://www.123bsc.com for the latest in new listings, property searches, available land, market data, financing trends, RSS feeds, press releases and more.