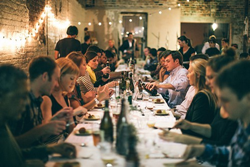 This is only the beginning of the foot traffic that businesses will see this summer and it cannot be stressed enough the importance of being prepared for what is to come.
ALLENHURST, N.J. (PRWEB) April 29, 2019
For those restaurant owners and managers who are already formulating the staff schedule to cover the anticipating crowds that Memorial Day Weekend will bring, we commend you for your leadership. After all, MDW is a merely four weeks away (!), and there is nothing worse than being ill-prepared for a major money-driving event that sets the motion for the rest of the summer season. Some restaurants may have even gotten a small taste of an influx in customers last weekend for Easter Sunday as the holiday has proven to be one of the busiest days of the year for the restaurant industry. If you last minute decided to put the kitchen utensils away and dine out for brunch on Sunday, I'm sure you understand what I mean since chances are every table was booked for the day.
This is only the beginning of the foot traffic that businesses will see this summer and it cannot be stressed enough the importance of being prepared for what is to come. Below are some tips on how to manage the increase in customers to make the transition from tablecloths to umbrellas as smooth as possible.
Staff Accordingly
For the restaurateurs who have had a big red circle around May 27th on their calendars for months, counting down until the MDW kickoff, you probably have this step down. For the rest of you, get organized! Look back at the success you had last summer at this time and figure out how many staff members you think you will need this year. A definite don't is waiting until the guests start crowding the bar before you decide how many employees to call in for the evening shift. Scrambling around to find workers as the orders pile up in the kitchen is the opposite of organization and will set you up for a disastrous weekend. If you think you are starting out a little short-staffed, take a look at our previous post about who has been filling out more job applications at restaurants.
Keep an Inventory
If I'm skimming through the menu at a restaurant after waiting two hours to be seated, it would be pretty disappointing to find out that several of my top choices were sold out. It's understandable that it happens. Sometimes there may be a lot more customers than anticipated with their eyes on the clam chowder in one particular evening that the kitchen can hardly keep up. To avoid this happening often, chefs should consider the increase in guests when ordering their ingredients. You may need to make sure you source more produce than you did on a Wednesday evening in January when guests trickled in whenever the weather peaked above 30 degrees. More people are out and about in the summer and every night has the potential to be as busy as the typical Saturday dinner rush.
Open Up the Patio!
If your restaurant is equipped with a patio area, expect to use it anytime the sun is shining. Summer is short in New Jersey and people will use every opportunity of nice weather to go outside. After spending the entire winter indoors, people look forward to enjoying their lunch in an outdoor setting. Restaurant Business Online agrees that outdoor dining is a popular way to attract customers, especially a restaurant overlooking the water. And the Jersey Shore has plenty of restaurants with amazing views!
New restaurant owners: don't let the talk about all the droves of people you should expect to see this summer scare you. The fact of the matter is, the Jersey Shore has become a popular place to visit over the years with more and more vacationers choosing the area as their home away from home. By following these tips and being prepared for all possible conditions, you will have a successful summer.