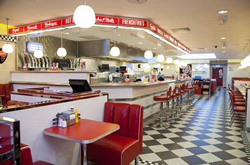 The Diner scene is still a go-to dining location for many as New Jersey continues to hold their title as the "Diner Capital of the World" strong and proud.
ALLENHURST, N.J. (PRWEB) May 20, 2019
There are currently well over 500 Diners in New Jersey giving the state the deserving title of "Diner Capital of the World." They range from the prefab, sleek, silver bullet or railroad car types to the next generation of neon and stainless-steel structures to the diverse site-built designs we have come to know today. These side-of-the-road eateries are known for their window booths, counter service, juke boxes, local themes and convenient round the clock hours. Ever since 1912, when the first "lunch wagon" – the horse-drawn precursor to modern diners – was purchased and built in a Bayonne home and set up shop on a street in West Hoboken, known today as Union City, the concept caught on to be much more.
Everyone who lives in New Jersey has their favorite Diner as well as their favorite Diner story or memory – late night antics, weekend breakfasts, meals after celebrations, meetings, even funerals. Particularly dominated by Greek families, Diners offer some traditional Greek menu favorites along with the ever present, larger than life, huge personality, Greek owner. They became our community restaurants; places where Jerseyites could gather, feel relaxed and enjoy good food and large portions at a fair price.
So what is it that attracted us to these Diners in the first place? It's probably the always accessible 24-hour service; breakfast anytime; owner always on premises to greet you and address any complaints; extensive menu – something for all members of the family; "all baking done on premises"; daily specials featuring all American comfort foods – homemade soups, meatloaf, chicken pot pie, pot roast, club sandwiches, open hot sandwiches and the must have French fries 'n gravy or disco fries… just to name a few. When you think about it, the Jersey Diner has really been an integral part of our lives.
However, like all food and beverage related businesses, Diners have had their fair share of challenges, especially with a concept that is ever-evolving. Breakfast chains like IHOP, Perkins and Denny's made a stake near every hotel, motel and anywhere else in need of an all-hours service, while Dunkin and Starbucks have saturated the competition for the perfect ground of coffee beans. As for most restaurateurs, finding, training and maintaining good help as well as controlling costs and payroll is struggling for diner owners. Even the long-standing profit center of 24-hour service has diminished due to a change in the ways young patrons drink and go out in the NJ club scene.And at a time when Baby Boomer Diner owners are getting ready to retire, they struggle to keep their traditional "family business" in the family as their children are opting for careers as doctors, lawyers and business professionals.
So, what does the future hold for our beloved NJ Diners? As a NJ Licensed Real Estate professional at Bielat Santore & Company, that has been exclusively involved in the sale of food and beverage related businesses and real estate for over 40 years, I have decided to give special attention to the Diner marketplace. I find it to be a vibrant market with many opportunities for both buyers and sellers. Regardless of the breakfast/lunch spots that have populated over the years, people still favor the experience of dining at a Diner. When anything your stomach could possibly crave is at your fingertips, it's hard not to gravitate towards the big neon lights illuminating off the highway. Maybe we still dream that we are settled into a classic 1950's style diner with Danny and Sandy while Grease Lightning plays on the jukebox, or fantasize that we are in the "Swingin" video by Tom Petty and the Heartbreakers while having our morning cup of joe. From my personal experience, the Diner scene is still a go-to dining location for many as New Jersey continues to hold their title as the "Diner Capital of the World" strong and proud.
I currently have (5) Diners listed for sale as well as (5) national chain stores available for conversion to privately owned Diner operations. Contact me at 732.531.4200 for more information on these properties or visit our website at http://www.123bsc.com to see other NJ restaurants for sale.
About Bielat Santore & Company
Bielat Santore & Company is an established commercial real estate firm. The company's expertise lies chiefly within the restaurant and hospitality industry, specializing in the sale of restaurants and other food and beverage real estate businesses. Since 1978, the principals of Bielat Santore & Company, Barry Bielat and Richard Santore, have sold more restaurants and similar type properties in New Jersey than any other real estate company. Furthermore, the firm has secured in excess of $500,000,000 in financing to facilitate these transactions. Visit the company's website, http://www.123bsc.com for the latest in new listings, property searches, available land, market data, financing trends, RSS feeds, press releases and more.