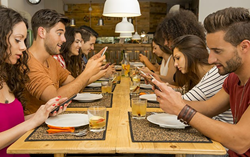 As infuriating as it may seem, everybody can't be pleased
ALLENHURST, N.J. (PRWEB) June 26, 2019
It's happened to everyone. Spending an abundance of the day running around at work striving to get the pat on the back approval from a boss, coworkers or customers, only to not receive the praise expected. In the restaurant industry, this criticism happens every day as food professionals aim to provide the best possible experience to hungry patrons. Fact of the matter is, restaurateurs could staff one of the most highly-respected chefs in the country and be a five-star rated establishment and still will not be able to escape some scathing reviews from customers.
There are two different types of restaurant diners: there are those who will have a not-so-satisfying experience when eating out and silently vow to be more selective when making Friday night dinner reservations, and those who choose to blast their social media feeds and Yelp pages with one-star reviews and reflections of their poor experience. Although these comments could be painful for restaurateurs to consume as they potentially will leave a negative taste to more than the one person who wrote the review, there are ways to deal with the negative feedback that could be a positive turnaround for both the owner and the customer.
Apologize and Respond Quickly
When receiving a negative review from a customer, don't panic. Getting some criticism is healthy and can be very beneficial in improving a business. As infuriating as it may seem, everybody can't be pleased and every single person is not going to have the greatest experience of their lives. Stay calm and apologize to the customer regarding whatever issues they raised a complaint about. And do this as soon as possible. If the customer is voicing how unhappy they were about the slow service they experienced during their last visit, respond by apologizing to the customer that had a less than enjoyable experience and that the staff is working to correct the problem as soon as possible. Perhaps offer to send them a gift card to show them that their their review is being taken seriously and their opinions are valued.
Figure Out the Problem and Fix It
Unless a restaurant has received one or two reviews from impossible-to-please customers who just want to make a fuss over their "too pulpy" orange juice, a pattern may be forming in the comments. Go through each review and see if the same problems arise (ex: drafty dining room, rude waitress, customers receiving consistently cold meals). Once some of the main concerns are narrowed down, the constructive feedback can be used to find a solution. Maybe organize a training session for employees, or adjust the temperature in the dining rooms as it may be cooling down the dishes before they even get to the customer. Negative reviews could have a strong influence on customers, but it does not mean the end of a business. Failing to react to these issues and fix them in a timely manner, however, will affect a businesses success.
Follow-Up with Reviewers
This may not always be an appropriate step, but many times there will be an opportunity to check in with the customer. Of course, if a customer tore apart everything about the restaurant from the décor to the thinness of their napkin, it may be wise to just brush their words off and move forward. Remember, everybody cannot be pleased so try not to get hung up on one poor review. But in many instances, following up with a customer could encourage them to remove or change their review. Reaching out shows that they are cared for, what they had to say is being considered, and action is being taken.
While seeing only one star light up on a Google or Yelp review could be very disappointing, it does not mean that the dining room will be empty tomorrow. That's just one person's opinion, and does not represent every customer's views. But if several red flags appear, be sure to tackle them head on and don't ignore them. Having the knowledge of what is needed to improve will only help a business grow.
About Bielat Santore & Company
Bielat Santore & Company is an established commercial real estate firm. The company's expertise lies chiefly within the restaurant and hospitality industry, specializing in the sale of restaurants and other food and beverage real estate businesses. Since 1978, the principals of Bielat Santore & Company, Barry Bielat and Richard Santore, have sold more restaurants and similar type properties in New Jersey than any other real estate company. Furthermore, the firm has secured in excess of $500,000,000 in financing to facilitate these transactions. Visit the company's website, http://www.123bsc.com for the latest in new listings, property searches, available land, market data, financing trends, RSS feeds, press releases and more.