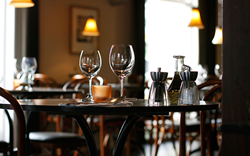 Unless they're giving away food for free, a busy restaurant is generally a sign that they're cooking up a pretty amazing menu that people are willing to wait for.
ALLENHURST, N.J. (PRWEB) September 10, 2019
Restaurant owners really have one of the toughest careers one could have. Not only do restaurateurs deal with food critics rating them on the satisfactory of their meals, but they are constantly judged by health inspectors, local competitors, some impossible-to-please customers, and even people who have never dined at the restaurant at all. Many diners have already drummed up an opinion about a restaurant before they have even glanced at the menu. With the help of some disgruntled Yelp and Google reviewers in the back of their minds, restaurant-goers can often form their first impression of an eatery at first look. Here are some ways customers are critiquing restaurants that has nothing to do with the food.
Crowded Restaurant
Ever pass by a restaurant and see crowds of people waiting outside for a table? Unless they're giving away food for free, a busy restaurant is generally a sign that they're cooking up a pretty amazing menu that people are willing to wait for. While this isn't the case for all restaurants, it is a fairly good assessment of what to expect when dining there. When people see crowds forming outside of an establishment, it often creates curiosity of what is so good that people are eager to get inside, prompting them to join in the line as well. And sometimes when a restaurant appears to be empty, especially during peak dining hours, it could be one of the reasons listed below.
Health Inspection Ratings
Ah health inspectors. They are employed to make sure restaurants are clean and safe for consumers, but they are often feared by restaurateurs as much as their 5th grade math teacher scared them with the surprise of a pop quiz. According to the Courier-Tribune, an inspector generally visits a restaurant anytime it is receiving or preparing food or drink, or is open to the public. That's a lot of pressure for a restaurant owner to maintain perfect conditions in the establishment at all times. But unlike the math test taken in 5th grade, the letter grade the inspector issues is posted right on the front window of the restaurant for all to see, grabbing the eye of everyone that walks past. How it works is the inspector follows a points system where each violation is given a certain amount of points. The points are then added together for a final inspection score that is associated with a letter grade. Simply put, the fewer the points, the fewer the violations, the better the grade. So if a customer sees a "C" letter grade, they may think twice before entering the restaurant regardless of how delicious the soup is.
Attentive & Pleasant Staff
This is probably an obvious one, but if the first employee that is greeting guests at the door is multi-tasking with taking reservations and yelling at her boyfriend on the phone, it may be a red flag that the rest of the staff will not be as attentive either. Guests need to feel welcomed and like they will be taken care of when they are seated, as opposed to being a nuisance to the waiter who is just trying to get through his shift. If they see this type of behavior immediately upon walking into your restaurant, they may decide to walk right out before hearing the specials for the evening. Make sure all employees arrive to their shifts in an upbeat mood and ready to work so customers feel as comfortable as possible.
Clean Tables & Bathrooms
Again, obvious, but extremely important - can't emphasize that enough. If the aftereffects from the breakfast that the family with five infants had this morning is still on, and underneath the table, guests will wonder what the kitchen must look like if that is what is displayed out in the open. In an article from FoodNewsfeed, every surface should be cleaned with sanitized rags daily including bar tops, tabletops, chairs and booths. This goes for bathrooms as well which should be consistently cleaned periodically throughout the day. One thing restaurateurs do not want is people taking pictures of the restaurant's less-than-stellar bathrooms and posting them online for public viewing. Some stores and restaurants even keep a cleaning log on the door of the bathroom to help employees track when the last sweep through was done. Speaking of sweep through, a broom and mop should also be handy to mop up toddler messes or just messes from people in general. It's a restaurant and the floors will get dirty. Also suggested is to wipe down condiment dispensers and menus, because germs.
The main concern when running a restaurant is not just making sure the food is up to par, but also paying attention to what customers are seeing before they even sit down. By doing this, the chances of scoring an "A" on customer's likeness scale will be much higher.
About Bielat Santore & Company
Bielat Santore & Company is an established commercial real estate firm. The company's expertise lies chiefly within the restaurant and hospitality industry, specializing in the sale of restaurants and other food and beverage real estate businesses. Since 1978, the principals of Bielat Santore & Company, Barry Bielat and Richard Santore, have sold more restaurants and similar type properties in New Jersey than any other real estate company. Furthermore, the firm has secured in excess of $500,000,000 in financing to facilitate these transactions. Visit the company's website, http://www.123bsc.com for the latest in new listings, property searches, available land, market data, financing trends, RSS feeds, press releases and more.