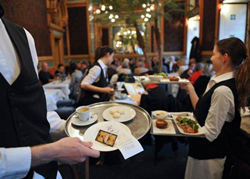 There are so many moving parts to running a restaurant that it is difficult to keep a watchful eye on everything and everyone.
ALLENHURST, N.J. (PRWEB) August 05, 2019
Believe it or not, the term "dine and dash" is listed in the urban dictionary, defined as: leaving a restaurant without paying. The sneaky crime has become so popular with diners over the years that perpetrators have coined the name "dine and dashers." A simple Google search of the term populates a lot of news articles of restaurant owners who have been victim to customers purposely walking away from their bill after indulging on quite the spread. So, it is understandable when restaurant owners want to keep a close eye on guests in the dining rooms to prevent this type of theft from occurring. However, similar forms of stealing could be happening right in the restaurant's kitchen as well, and the numbers are alarmingly high.
Get this: 75% of employees have admitted to stealing at least once from their employer, and that's not the most shocking number we found. Consumer payments app, Toast, also reports that in the restaurant industry alone, the total amount of employee theft ranges between $3 and $6 billion dollars annually(!). That's a ton of money that is making its way out the door without restaurateurs even realizing it. Before pointing the finger at every employee with trust issues whenever the register comes up a dollar short, let's first evaluate the signs that the staff may be cheating some major cash and how to prevent it in the future.
Frequent Breaks
Living in the digital age where asking a person to put down their phone is like telling a child not to eat the freshly baked chocolate chip cookies on the counter, it's just too tempting to resist. They may store it in their aprons or pockets to appease in the moment, but guarantee that the next time paths cross, their thumbs will be typing away as though the initial warning never happened. But in the workplace, these constant mini-breaks employees are frequently taking to check their phones are costing restaurateurs valuable time and money.
On the House
Bartenders have a lot of power behind the bar and probably interact with the most customers in one shift than most other employees. While their friendly nature typically grants them larger tips from customers, sometimes they can go too far at the expense of the owner. Sometimes there's the occasional gesture where a manager will offer a complimentary drink or appetizer "on the house" in the event that there was a mishap with an order or customers wait a long time for a table. Sometimes, however, employees take advantage of this one-off courtesy and start doling out free food and drinks regularly to increase their personal tips. What may seem harmless in the beginning can quickly spiral to a major deficit for the employer.
False Dine-and-Dash
Reflecting back on the dine and dash – which is a serious offense in New Jersey, resulting in varying penalties depending upon the amount stolen – employees have even used the owners fears of check-dodgers to their advantage. In some circumstances, a server may claim that a customer did not foot the bill, when in reality, the money ended up in the server's pocket instead of being safely deposited into the register. While dine and dashes are a common occurrence, staff may see it as a way to make a few extra bucks that was lacking in their tip.
Although it's hard to stomach that some employees hired may be culprits of this type of workplace behavior, there are precautions that can be taken to prevent theft in the future. It may just mean keeping a tighter ship around the restaurant and putting a protective system in place. Some security measures to take can include:
Tracking all sales and inventory through a POS system to cut down on the amount of freebies that are passed out without the owner's knowledge. Also, taking inventory after each shift and recording how much waste was used throughout the day will help tackle any problems early on. Other insurances to take include putting locks on the liquor cabinets, providing access to the owner, manager and bartender only. And most importantly, installing security cameras will ensure that everywhere in the restaurant is monitored.
There are so many moving parts to running a restaurant that it is difficult to keep a watchful eye on everything and everyone. However, security is a main priority that should not be overlooked. Using these preventative measures will make the restaurant feel safer and more secure, and not just from dine and dashers.
About Bielat Santore & Company
Bielat Santore & Company is an established commercial real estate firm. The company's expertise lies chiefly within the restaurant and hospitality industry, specializing in the sale of restaurants and other food and beverage real estate businesses. Since 1978, the principals of Bielat Santore & Company, Barry Bielat and Richard Santore, have sold more restaurants and similar type properties in New Jersey than any other real estate company. Furthermore, the firm has secured in excess of $500,000,000 in financing to facilitate these transactions. Visit the company's website, http://www.123bsc.com for the latest in new listings, property searches, available land, market data, financing trends, RSS feeds, press releases and more.