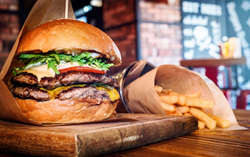 Hot Dogs, Pizza, Philly Cheesesteak, BLT, Barbecue Ribs, Chicken and Waffles, and Lobster Rolls are just a few foods that have come a long way since their inception.
ALLENHURST, N.J. (PRWEB) June 26, 2019
According to CNN's 50 Greatest Dishes in America, the number one dish in their countdown is not just one item but includes the entire Thanksgiving feast. Although the turkey has been known to steal the show as it is the main attraction during the annual Macy's Thanksgiving Day Parade and acts as a centerpiece at the dinner table, people crave its sister sides just as much. The entire day would not be the same without the mashed potatoes drizzled in gravy with cranberry sauce, string bean casserole and Grandma's homemade cornbread… to start at least.
These types of comfort foods may be just the flavors needed for those looking to spice up their restaurant menu. A report from the LATimes states that according to the Institute for Food Technologists, how something smells is responsible for 80 percent of a customers' dining experience. The ingredients used in a Thanksgiving dinner smell that good together because they have similar flavor components, hence why people can't just choose one favorite dish. This must be why the leftovers taste amazing days later, even when everything is piled into the same tupperware container.
Maybe since most only indulge on this cuisine once a year, making stomachs rumble at the thought of digging in to a 10-course meal, naming Thanksgiving dinner as the top American food dish may not be exactly fair. But these other more common menu items that scored highly on CNN's popularity scale have proven to be fan favorites, with many restaurants dedicating their entire menus to just one type of fare.
Hot Dogs, Pizza, Philly Cheesesteak, BLT, Barbecue Ribs, Chicken and Waffles, and Lobster Rolls are just a few foods that have come a long way since their inception. Over the years, chefs have perfected their twist on the classic meals, causing debates on which part of the country does it best. Famous treats like the Coney Island Hot Dog – which first appeared in Jackson, Michigan, not New York in 1917 – were studied and crafted by cooks who put their own spin on the original creation, many winning the title as the top dog in the Garden State by NJ.com polls. And while still named "Philly" Cheesesteaks, the quick-service sandwich has branched out to gain notoriety outside of Pennsylvania. One location in nearby Camden, New Jersey, Donkey's Place, specializing in cheesesteaks, has been dubbed as one of "The Best Sandwiches in America" by several publications, and featured in an episode of the late Anthony Bourdain's show "Parts Unknown."
What is it about these foods that people adore? Maybe it's the fact that the harder they try to recreate a favorite dish, it never comes out the way it is remembered in the restaurant. Consumers will forever be like Spongebob Squarepants racking their brains trying to figure out the recipe to the beloved Crabby Patty. Simple plates like the cheeseburger will always be a copycat trend that every restaurant formulates differently so they never taste the same. Even how it is eaten has changed as many restaurants serve mini versions of the burger as appetizers called "sliders," coupled with a plethora of options to eat a potato (Fried? Mashed? How about roasted?).
Somehow these staple foods have continued to evolve, and Americans just keep on ordering them. By introducing these basic entrees, it can then be decided how to make enhancements that would separate the meal from any other restaurant's style, boosting a little flare to the menu. Restaurateurs have the knowledge of what foods people desire, now just figure out how to incorporate that into the menu in a unique way. Many people choose a restaurant by listening to their stomachs and what it is in the mood for, so by creating a stand-out menu, people will crave one restaurant's food over another. Can't choose which dishes to add? Just fuse together a whole Thanksgiving feast, that seems to work too.
About Bielat Santore & Company
Bielat Santore & Company is an established commercial real estate firm. The company's expertise lies chiefly within the restaurant and hospitality industry, specializing in the sale of restaurants and other food and beverage real estate businesses. Since 1978, the principals of Bielat Santore & Company, Barry Bielat and Richard Santore, have sold more restaurants and similar type properties in New Jersey than any other real estate company. Furthermore, the firm has secured in excess of $500,000,000 in financing to facilitate these transactions. Visit the company's website, http://www.123bsc.com for the latest in new listings, property searches, available land, market data, financing trends, RSS feeds, press releases and more.