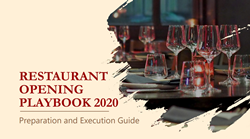 The goal is to work together not merely for survival, but for success!
ALLENHURST, N.J. (PRWEB) June 09, 2020
Just a few of months ago the restaurant business was on a roll as Americans spent more than half their food budget eating out. New concepts were replacing old standbys. Chefs went from unknown laborers to celebrities. Restaurants were the best form of entertainment after a hard-working week. Then, at a moment's notice, restaurants were effectively shut down by the government. Dining at a restaurant will no longer be the social experience that customers once craved pre-Covid-19. Restaurateurs are making attempts to adapt to the "new normal" of eating out, including spread out tables, limited capacity, and enhanced cleaning measures hoping that guests will one day feel comfortable returning to their dining rooms once again. While New Jersey is preparing for a phased reopening after three months of shuttered restaurant doors, Bielat Santore & Company is sharing it's "Restaurant Opening Playbook," a preparation and execution guide on how to successfully reopen restaurants with the hospitality industry.
The "Task Force" assembled by Bielat Santore & Company is comprised of multi-unit restaurant operators that collaborate on ideas, procedures, strategies, and goals as they relate to the preparation for and the reopening of restaurants and other hospitality-based businesses in New Jersey. The company's mission is to provide a collaboration of knowledge, expertise and innovative thinking from some of the industry's most reputable restaurant operators, that will yield a strategy for all independent restaurateurs to follow, assisting all in the transition back to "business as normal." The guidelines provided in the playbook include, but are not limited to, communicating with customers; preparing for the three stages of reopening; operating within a "new normal"; and potential financing options available to restaurants. The goal is to work together not merely for survival, but for success!
The Restaurant Opening Playbook can be found in Bielat Santore & Company's Restaurant Industry Daily Alert bulletins and on the company's website at http://www.123bsc.com. To join the firm's email list and/or to request a copy of the "Restaurant Opening Playbook," contact courtney@123bsc.com. For more information and to learn how to get involved in the Task Force, contact Richard Santore at 732.531.4200 or email ace@123bsc.com.
About Bielat Santore & Company
Bielat Santore & Company is an established commercial real estate firm. The company's expertise lies chiefly within the restaurant and hospitality industry, specializing in the sale of restaurants and other food and beverage real estate businesses. Since 1978, the principals of Bielat Santore & Company, Barry Bielat and Richard Santore, have sold more restaurants and similar type properties in New Jersey than any other real estate company. Furthermore, the firm has secured in excess of $500,000,000 in financing to facilitate these transactions. Visit the company's website, http://www.123bsc.com for the latest in new listings, property searches, available land, market data, financing trends, RSS feeds, press releases and more.