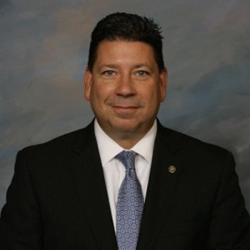 We're on the frontline too, we're doing our share to assist these small businesses the best we can, big-small across the board.
ALLENHURST, N.J. (PRWEB) April 17, 2020
It's been over a month since the government ordered all non-essential businesses to close, leaving many concerned business owners wondering when they can get back to work. For Andy Glatz, Senior Managing Director and Head of SBA Lending at Peapack-Gladstone Bank, the work never stopped. Richard Santore, Vice President of Bielat Santore & Company sat down with Glatz to discuss how the bank is assisting their clients through the global pandemic and the steps small businesses should take to ensure economic relief.
With 25 years of experience working in SBA Lending and five years with the NJ-based commercial bank, Glatz is at the frontline aiding struggling businesses affected by the closures. "We have approved about 900 loans for a little under $350 million," said Glatz. "It was a tremendous number for a small NJ bank like ourselves." However, this week, the Small Business Administration announced the Payment Protection Program (PPP) hit its $349 billion limit, making them unable to accept new applications. "Unfortunately, the program has run out of money now," said Glatz. "We were running pretty much 24/7. We knew this day would come. We knew there was a limited amount of funding available." Since the closures began, the bank has received about 2,000 applications from business owners looking for financial aid.
Working tirelessly around the clock, Glatz and his team are doing everything they can to assist their clients during this difficult time. "We're on the frontline too, we're doing our share to assist these small businesses the best we can, big-small across the board," said Glatz. "Whatever the business is, it's important to them, so we try to assist the best we can to that business."
But there is still hope for those still in need of financial relief. Other programs available to help are the SBA Disaster Relief and NJEDA program. "These aren't bank funded, they're bank assisted," said Glatz. "These are programs that are set up directly through the SBA or the EDA. Now that the PPP is exhausted, these other two I think will be a little more active." For more information about these programs, visit https://www.sba.gov/ and https://www.njeda.com/.
As for future lending of government backed funds, Glatz isn't worried about replenishment. "The PPP did 14 years' worth of loans in 14 days," said Glatz. "It was an amazing number and it shows you'd be surprised what they can do.
To view the full video interview, visit Bielat Santore & Company's website at http://www.123bsc.com and Facebook page, and stay tuned for next week's "Thursday Restaurant Rap" interview.
About Bielat Santore & Company
Bielat Santore & Company is an established commercial real estate firm. The company's expertise lies chiefly within the restaurant and hospitality industry, specializing in the sale of restaurants and other food and beverage real estate businesses. Since 1978, the principals of Bielat Santore & Company, Barry Bielat and Richard Santore, have sold more restaurants and similar type properties in New Jersey than any other real estate company. Furthermore, the firm has secured in excess of $500,000,000 in financing to facilitate these transactions. Visit the company's website, http://www.123bsc.com for the latest in new listings, property searches, available land, market data, financing trends, RSS feeds, press releases and more.