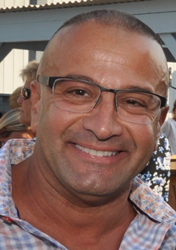 We're getting by, and I don't want to jump ahead, but I don't see the bars getting back to normal anytime soon.
ALLENHURST, N.J. (PRWEB) April 13, 2021
It has been over a year since New Jersey Governor Phil Murphy mandated non-essential businesses to close their doors for the "foreseeable future" in an effort to curb the spread of COVID-19. Restaurants, bars, nightclubs, retail stores, and the like resorted to take-out and curbside pick-up to keep their businesses afloat for what they believed would be a temporary two-week closure. Fast forward one year since businesses reopened, and those that survived are still battling capacity limits and heavy restrictions, preventing business as usual from returning anytime soon.
At the beginning of the shutdowns, Bielat Santore & Company launched a weekly interview series, "Restaurant Rap," becoming a sounding board for restaurateurs to vocalize how their businesses were handling the state-wide closures. In a new revival series, 'How Ya Doin?', Richard Santore, Vice President of Bielat Santore & Company is checking in with these same restaurateurs one year later.
For owner of seven MJ's restaurants in Monmouth, Ocean and Middlesex counties, Angelo DiCapua, challenging is an understatement to describe the past year for the hospitality industry. "It's kind of hard to believe a year has gone by," said DiCapua. "So many things have changed!" When Santore previously sat down with DiCapua in the first installment of the "Restaurant Rap" series in April 2020, DiCapua admitted his restaurants were relying heavily on to-go services as dining rooms had been closed for over three weeks. While all locations have welcomed customers back since, takeout and delivery continues to be a big help while capacity is limited and bar seating remains off-limits. "We pay the bills and we stay afloat at 50 percent [capacity]," said DiCapua. "What really hurts us is on the weekends when you're only seating 50 percent [capacity], you can't make ends meet." Outdoor dining has also been a pleasant alternative for customers itching to dine out again, which DiCapua claims has produced some challenges. "You know you're trying to chase your money, but when it got cold and you can't sit outside anymore, that was the real challenge, said DiCapua."
Support from the community played a major role in helping restaurants survive, not just from customers, but from fellow restaurant owners as well. DiCapua was also a member of Bielat Santore & Company's "Task Force"; a group comprised of multi-unit restaurant operators to collaborate ideas, procedures, strategies, and goals as they relate to the preparation for the reopening of restaurants and other hospitality-based businesses in New Jersey. "To be a part of that group was pretty cool because we had some great operators in there. Guys and gals I always looked up to," said DiCapua. "To hear them having the same struggles as I was having, it was a great experience."
With a post-COVID world getting closer to reality, restaurateurs are eager for business to get back to normal, but DiCapua isn't getting his hopes up just yet. "We're getting by, and I don't want to jump ahead, but I don't see the bars getting back to normal anytime soon," said DiCapua. "I just don't see anything happening where it's going to get better."
To view the full video interview, visit Bielat Santore & Company's website at http://www.123bsc.com and stay tuned for the next video of the 'How Ya Doin?' series.
About Bielat Santore & Company
Bielat Santore & Company is an established commercial real estate firm. The company's expertise lies chiefly within the restaurant and hospitality industry, specializing in the sale of restaurants and other food and beverage real estate businesses. Since 1978, the principals of Bielat Santore & Company, Barry Bielat and Richard Santore, have sold more restaurants and similar type properties in New Jersey than any other real estate company. Furthermore, the firm has secured in excess of $500,000,000 in financing to facilitate these transactions. Visit the company's website, http://www.123bsc.com for the latest in new listings, property searches, available land, market data, financing trends, RSS feeds, press releases and more.