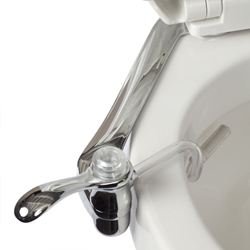 I would say this is the greatest invention ever made and so happy that a friend turned me on to your company. To me, it is like a mini shower, use the toilet, rinse off, towel dry and good to go...Fresh as a daisy. Thank You Very Much...
Boulder City, Nevada (PRWEB) May 04, 2016
Warren L. Smith M.D.
There is a new tool in the battle against bladder infections. Bladder infections, also called UTIs, have plagued people since the beginning of recorded medical history, and in spite of all the antibiotics and modern medicine, millions of women get bladder infections every year. It's not just a matter of inconvenience; bladder infections cost us billions of dollars annually in lost workday productivity and healthcare expenses including hospitalization and sometimes even death. The vast majority of UTIs are caused by E. coli, a bacteria that all people harbor in their colons. Because this organism lives very close to the outlet of the bladder it is relatively easy for it to invade the bladder and cause infection. By then the horse is out of the barn and antibiotics are necessary.
Why not wash harmful bacteria away before they cause infection? One way to wash bugs away is to shower several times a day, especially after using the bathroom. More developed societies have bidets, devices that are basically a separate toilet designed to spray water on the user's bottom to clean it; expensive but effective. Most recently, attachable bidets that can be connected to just about any toilet have been developed.
Using an attachable bidet after going to the bathroom is a very effective way to keep harmful bugs from invading the bladder and causing UTIs. Although many personal hygiene bidets have a relatively weak stream of water and merely sprinkle the users bottom. More powerful bidets can generate a shower-like spray to thoroughly clean the entire area in a matter of seconds. The American made Biffy Bidet is one of them. The Biffy was tested in a certified Laboratory and found to remove more than 99% of bacteria. That level of cleansing is very hygienic and can be clinically correlated to a dramatically lower rate of UTIs in many patients.
There are, of course, other benefits to the kind of high level of personal hygiene a bidet can provide including cleaner clothing, increased social confidence and a general feeling of well-being and that comes with personal cleanliness. Additionally, mechanical problems with toilets are diminished due to the markedly decreased the amount of toilet paper and therefore chances for clogs in plumbing. Toilet paper savings can be significant.
Another concern that many people who are contemplating buying a bidet have is the temperature of the water. The water coming out of the wall in most homes is about the temperature of the water coming out of a sink faucet. Very comfortable in other words. Nevertheless, many people do opt for some sort of a water warming device. This can add considerably to the cost of a bidet. Most electrically operated warm water bidets cost several hundred dollars. Some bidets offer a warm water option at much lower cost utilizing a small separate heated tank. One of the best of these is the Biffy Bun Warmer which operates on low-voltage and thus combines safety with low cost while warming the water to a comfortable 98°.
Cconsidering the whole picture: the health benefits, the social benefits, the decrease in plumbing problems and the savings on toilet paper and bathroom supplies, it seems almost unbelievable that there is anyone left who doesn't already use a bidet. But actually, in the US, fewer than 1% of homes have a bidet installed. This is in part due to the natural resistance of the people to talk about bathroom hygiene. Because of that shyness, the topic usually remains"In the closet" and America is behind many other nations of the world in this respect. Some bidet companies like the the American Biffy Company are committed to helping people rinse away bathroom bugs and eliminate millions of bladder infections every year.