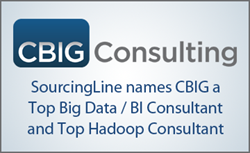 Chicago, IL (PRWEB) March 19, 2014
Washington D.C.-based research firm SourcingLine published its latest findings this week focusing on Top Big Data and BI Consulting Companies, and separately Top Hadoop Consulting Companies, identifying CBIG Consulting among a handful of companies that made it on both lists. Using its proprietary Leaders Matrix framework, SourcingLine's results stem from a quantitative analysis that maps a firm's services against its record of successful delivery and client satisfaction.
CBIG Principal and spokesperson John Onder credited the dedication of CBIG staff in terms of its never-say-never tenacity toward resolving complex analytic challenges, and also mentioned CBIG leadership's outside-the-box creativity in refining services and developing vertical offerings for specific industry needs. "We're always looking over the next hill to see how far we can go. Plus, we believe in a team-based approach to sharing ingenuity, which means we all go together, and everybody wins."
CBIG is one of a small number of firms that made both the Big Data and Hadoop listings because its comprehensive service offerings and performance record were exemplary in both categories. SourcingLine publishes companion directories for Top Big Data and BI Consulting Companies and Top Hadoop Consulting Companies to give data-driven client buyers a resource search tool with a range of filters designed to help in choosing consultants that best meet their needs relative to services.
About CBIG Consulting:
CBIG Consulting is an international team of experts in Data Warehousing, Business Intelligence, Big Data Analytics, and Cloud-based Analytics platforms. Selected in 2013 by independent research firm SourcingLine as well as CIO Review as a leading big data/data analytics consulting firm, CBIG consultants average fifteen years of direct experience in the field. CBIG works with global enterprises, mid-size businesses, and non-profit organizations in solving mission-critical reporting and analytical needs. CBIG is headquartered in the Chicago, IL area, and has additional offices in San Francisco, CA, Boston, MA, Denver, CO, Austin TX, Raleigh, NC and Sydney, NSW, Australia. For more information, please visit http://www.cbigconsulting.com.