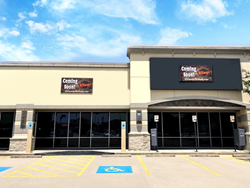 Sam Elsaadi, Director of Operations for Big City Wings, said, "We're looking forward to providing the best place for families to watch sports while having a great homemade meal that is always fresh and never out of a box."
HOUSTON (PRWEB) July 30, 2018
Big City Wings is proud to announce the September opening of their sixth location at 21322 Kuykendahl Rd., Spring, TX 77379.
Best known as one of Houston's first popular wing restaurants, Big City Wings offers area customers with mouth watering buffalo style chicken wings, a menu with lots of variety, and huge TV's to watch all the games. Their menu includes a variety of American food—from burgers and fries, to sandwiches, to their famous chicken wings and waffles. Big City Wings is available for dine-in, take-out, delivery, and catering for home or office. Every customer will receive the Big City Wings treatment—big on service and big on great food!
Expanding on the already rapid growth of this Houston-based chain, Big City Wings has acquired the prime property of a previous wings restaurant, and plans to bring great service, food, and area sports programming to the local clientele this fall. This Spring eatery, opening in mid-September, will be their sixth, with locations already open in Atascocita, Pearland, and Houston (Marq*e, Jones Road and Highway 6). Their seventh location will follow towards the end of the year in Kingwood.
Known as the place to be to watch the Houston Rockets, Big City Wings' new Spring location additionally provides local sports fans with over forty screens to watch a variety of sports—from March Madness, to the Super Bowl, World Series and more—as well as a spacious outdoor patio, and even an arcade for the kids. Big City Wings promises an array of happy hour, lunch and daily specials embracing ice-cold beers, juicy burgers and sandwiches. However, the most popular item on the menu is, of course, the chicken wings, which are served with over twenty-five different sauces from gold fever and spicy ranch, to firehouse and honey citrus.
About the opening, Sam Elsaadi, Director of Operations for Big City Wings, said, "We're looking forward to providing the best place for families to watch sports while having a great homemade meal that is always fresh and never out of a box." He is looking forward to the growth of the brand, and is excited about future expansion. For more information about daily specials or to find a Big City Wings location near you, visit them online at bigcitywings.com.
About Big City Wings
Big City Wings is a Houston-based wings restaurant that offers fresh, house-made chicken wings, thirst-quenching spirits, and a variety of other dishes for delivery, pick- up, dine-in or catering. The six family-friendly wings restaurant locations offer customers over forty big television and projector screens to watch an array of games. As one of the first popular wings places in Houston, the first original owners moved back to Houston to restore the same great concept and food in 2015. For more information, visit http://bigcitywings.com.