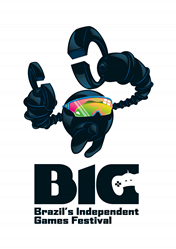 Humble BIG New Talent Award Recognizes Promising Indie Developers
SAO PAULO (PRWEB) June 04, 2019
Brazil's Independent Games (BIG) Festival, Latin America's largest indie gaming expo, have announced today a partnership with Humble Bundle to recognize up-and-coming talent in Latin America. The Humble BIG New Talent Award has been added to the BIG Festival awards line-up, with a $15,000 prize attached to it. BIG Festival is an international gaming convention held from June 26 to June 30 in São Paulo, Brazil. The awards section will host a ceremony that will grant a variety of honors to game developers in Brazil and the world over.
Latin American studios who submitted their projects to the BIG Festival Awards are now automatically eligible for the Humble BIG New Talent Award as long as they agree to participate and submit a new game proposal that runs on the Windows platform. These competitors will be assessed by the jury to determine if they are creative, unique, or experimental enough to be released as a Humble Original distributed worldwide through Humble Bundle. Additionally, a $15,000 USD prize will be granted to the winner of the award as the accomplish milestones through the development of their game with $7,000 of the prize made available immediately to help relieve the cost of creating their new title.
The finalists will be revealed a few days before BIG Festival kicks off and the winner will be announced on June 28, during the awards ceremony at BIG Festival in Sao Paulo, Brazil.
"We are happy to announce this partnership because Humble Bundle and Brazil Games have much in common when it comes to indie gaming. We want promising indie developers to have a chance at worldwide exposure to encourage creativity and diversity in gaming on an international level." says Gustavo Steinberg, Big Festival's director.
BIG Festival 2019 Edition will be taking place in Sao Paulo, Brazil from June 27 to June 30. The event covers competition between national and international games with cash prizes, exhibition of the selected games, awards ceremony, lectures and business rounds. For more information visit https://www.bigfestival.com.br/.
About Humble Bundle
Humble Bundle sells games, ebooks, software, and other digital content. Our mission is to support charity while providing awesome content to customers at great prices. We launched in 2010 with a single two-week Humble Indie Bundle, but we have humbly grown into a store full of games and bundles, a subscription service, a game publisher, and more.
About BIG Festival
BIG Festival (Brazil's Independent Games Festival) has been held since 2012 and is considered one the most influential and innovative independent gaming festival in Latin America. With the mission to strengthen the Brazilian video game ecosystem, the event produces a yearly international independent video game award competition offering significant cash prizes, a major exhibition showcasing hundreds of games including the awards nominees, a spectacular awards ceremony event, industry related lectures and business rounds. In 2017, BIG hosted more than 20,000 visitors, 3,500 of them having participated to lectures, and more than 1600 guests attending business meetings. This year BIG will expand its schedule of lectures and workshops by incorporating new topics and areas that are part of games development cycles, such as music, animation, virtual and augmented reality, a career center, among others segments already present at the event.