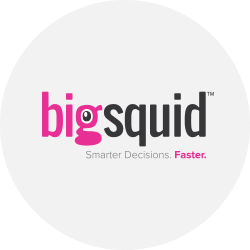 "We're thrilled to be working with this world-class team and believe this is the early innings of democratizing data science." - Brian Hopcraft Managing Director at Lewis & Clark Ventures
SALT LAKE CITY (PRWEB) January 15, 2019
Big Squid, the Salt Lake City-based predictive analytics and automated machine learning software company, is announcing today that it has raised a $9M Series A-1 funding round led by Lewis & Clark Ventures, with plans to further develop its Kraken platform. Additional participants in the round include existing investors Silverton Partners, Signal Peak Ventures, and Kickstart Seed Fund. This new investment brings Big Squid's total amount raised to over $18.5M.
More than ever, companies are seeking to leverage their data to inform key business decisions; however, the preparation, time and expertise required to do so at scale are significantly limiting factors. Big Squid's platform, Kraken, enables companies to put the power of machine learning and predictive analytics into the hands of more of its employees, allowing a workforce to automatically engage best-in-class data-science models to instantly surface correlations, draw critical insights and make future predictions that are core to company operations.
"With this added investment we will be able to expedite focus on our product integrations with top data and analytics platforms as well as the growth of the team to execute quickly and bring automated machine learning power to more businesses faster" said Chris Knoch, CEO of Big Squid.
He continued, "We are thrilled to add Lewis and Clark Ventures to the team. This funding will enable us to execute on our rapidly growing opportunity. They have already proven their commitment to this investment as a true partner with strategic guidance and active engagement with our entire team."
Big Squid's Kraken platform puts the power of automated machine learning into the hands of analysts and business decision makers. This will allow them to apply machine learning to their data in order to instantly uncover correlations and identify the top influencers driving outcomes in their businesses. Automating this process allows a more rapid time to value and enables the organization to plan and take action on the newly found insights.
"Most businesses that we talk to have the desire to become more data-informed in their decision making, and rightfully so, yet few have the resources or even truly understand what that means. Hiring a full team of data scientists to develop predictive models is expensive and challenging, so it seems natural to us to build your strategy atop software that empowers both technical and non-technical users alike to unlock the value that's already sitting in your data repositories. We're thrilled to be working with this world-class team and believe this is the early innings of democratizing data science." - Brian Hopcraft Managing Director at Lewis & Clark Ventures
If you would like more information about this topic, please contact Carly Ray, Marketing at Big Squid, Inc. - 801.842.4706 or email us cray@bigsquid.com.
About Big Squid: Big Squid specializes in all aspects of Business Intelligence, Data Science, Machine Learning and Predictive Analytics. With more than 1,000 data and strategic Business Intelligence platform implementations under their belt, Big Squid develops and implements innovative data science solutions that enable business users to identify and answer their key business questions faster. Seed Funding Press Release. For more information, please visit http://www.bigsquid.com
About Lewis and Clark: Lewis & Clark Ventures was founded by former operators with the conviction that innovation and entrepreneurial talent are plentiful between the U.S. coasts. We invest in the highest potential expansion stage companies throughout America's heartland in enterprise software, digital healthcare, and agriculture technology. Our vision is to become a trusted partner to every entrepreneur that we back and assist in their journey towards scale and significance.
About Signal Peak Ventures: Signal Peak Ventures is a venture capital firm based in Salt Lake City, Utah. Signal Peak Ventures invests in innovative technology companies and looks for entrepreneurial teams with the potential to transform markets and create lasting value. Specific areas of focus include Internet, SaaS, enterprise software, security, and mobile computing. For more information, please visit http://www.spv.com
About Kickstart Seed Fund: Kickstart Seed Fund is a seed stage venture capital firm based in Salt Lake City, UT. Kickstart Seed Fund's mission is to kickstart the best companies in Utah and the Mountain West by providing smart capital, a connected community and expert guidance. Since raising its first fund in 2008, Kickstart has invested in more than 60 companies. For more information, visit http://www.kickstartfund.com
About Silverton Partners: From idea to exit, the Silverton team works with exceptional entrepreneurs who are committed to attacking growth markets and building lasting companies. In partnering with Silverton, companies benefit from its deep network and lessons learned over many decades of operating and investing experience. Founded in 2006, Silverton Partners is based in Austin and has been the initial investor behind Convio, WP Engine, SpareFoot, SailPoint, Silicon Labs, TurnKey, The Zebra, AlertMedia, SpyCloud, Convey, Aceable, Big Squid, and Billie among many others. CB Insights has recognized Silverton as the most active venture capital firm in Texas. For more information, visit http://www.silvertonpartners.com.