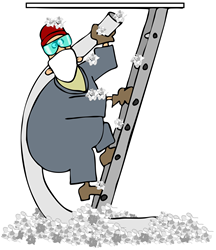 Insulation contractor in the mountain community for making the home more energy efficient. Big Bear and Lake Arrowhead residents can have radiant barriers and better attic insulation.
Big Bear Lake, CA (PRWEB) July 16, 2014
Pest Control Insulation Guys are now offering attic insulation services to residential and commercial buildings in Big Bear and Lake Arrowhead, CA. Their insulation contractor services include the removal of attic insulation, blowing in new attic insulation, clean up of rodent droppings, and installing radiant barriers.
Pest Control Insulation Guys has experience as both general contractors and pest control operators. They are qualified to remove insulation, including damaged insulation from animals or rodents. Cleaning up rodent feces is dangerous because of the hazard to the air that is stirred up during the removal of droppings. These services are best left to experts that have the experience and proper equipment.
For those looking to install new attic insulation in Big Bear Lake, Big Bear City, Sugarloaf, Lake Arrowhead, Lake Gregory, Crestline, Running Springs, Blue Jay or in mountain area, they are in good hands with Pest Control Insulation Guys. With a licensed contractor and pest control operator, they can install traditional insulation or pest control insulation. This can even be done over old insulation to make the home more energy efficient.
For Lake Arrowhead and Big Bear residents who want to lower their summer utility bill, there is an affordable solution. Installation of radiant barriers is one of the most cost effective ways to lower the utility bill in a home or business. The radiant barrier is installed in the attic and will reflect radiant heat coming from the roof. This drastically reduces the temperature of the attic, reducing the heat entering the home, and makes the air conditioning system work less. For homes with no air conditioning, this makes the whole house more comfortable in the summer months.
Pest Control Insulation Guys servicing the mountain community including Big Bear and Lake Arrowhead, CA is licensed and insured. More information about them can be found on their website at http://pestcontrolinsulationguys.com.