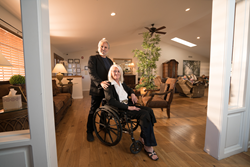 "There's a way to save you and your family from the costly burden of caring for a loved one late in life. There's a way to help the growing numbers of seniors that need care and homes. The solution is to own and operate your own residential living facility."-Gene Guarino
PHOENIX (PRWEB) November 16, 2018
America's families are buckling under the financial burden of caring for their children and their aging parents at the same time. Most turn a blind eye to the Silver Tsunami desperately hoping it won't hit home. Consider this. According to the US Census, nearly 37 Million baby boomers will turn 65 over the next decade. Did you know there are only about 1.4 million beds available in assisted living facilities and homes in America today? Most of those beds are already occupied.
We are living longer and longer and the average healthcare cost burden for the 85-year-old is a whopping $33,000 dollars a year.
The good news is: those who are facing the assisted living challenge head-on have found one of the biggest investment opportunities in a generation.
"The image of big box warehouses for the elderly fills most of us with dread. We found a huge win-win with a simple, scalable business plan. Seniors thrive in a single-family home in a residential setting and homeowners provide a brighter future for their own parents and their neighbor's parents alike."
-Gene Guarino
What would you rather live in… a "home" or a warehouse?
ABOUT ASSISTED LIVING NETWORK
Assisted Living Network's sole purpose is to give families every resource, tactic and tool to make financial success a family tradition. From "How do I get into assisted living with no money out of pocket", to "how to find great staff", to "what's on the menu", the Assisted Living Network answers every question of the homeowner and the residents alike, turning the Silver Tsunami into a win-win watershed moment in American history.
Gene Guarino, Founder/CEO of the Residential Assisted Living Academy™ has over 30 years of experience in real estate investing and business. He has personally trained thousands of entrepreneurs for success in real estate and strategic investment. He has spent years with a focus on enriching the lives of others by helping them take advantage of this mega-trend opportunity and provide their families with a solution.
Visit: https://www.youtube.com/c/ResidentialAssistedLivingAcademy
If you would like more information about this topic, please contact:
Isabelle G at (480) 704-3065 or email at info(at)assistedlivingnetwork.com