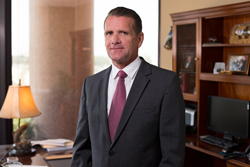 Identifying the factors influencing prosperity and quality of life is the first step to making the changes we need
West Palm Beach, Florida (PRWEB) February 28, 2014
The Florida Chamber Foundation recently featured Bill Perry, managing shareholder and real estate attorney, of Gunster in a video which featured the Foundation's Six Pillars plan.
The video, titled "Six Pillars," lays out the Foundation's purpose of the plan and the key elements needed to bring prosperity and a greater quality of life to various communities. Perry, a Florida Chamber Foundation trustee, spoke about the Foundation's Six Pillars program in the video.
"I was pleased to take part in this informative video from the Florida Chamber Foundation," Perry said. "As a trustee of the foundation, I believe wholeheartedly in its mission, and hope that my contributions will play a role in helping the Six Pillars program continue to succeed. Together, we can help find business-driven solutions that create a brighter future for everyone in our state and region."
With the Six Pillars program, the foundation aims to identify factors, or "pillars," that determine a community's success, and then influence those factors to develop the first-ever long-term strategic community development plan for the state. The pillars include talent, supply and education; innovation and economic development; infrastructure and growth leadership; business climate and competitiveness; civic and governance systems; and quality of life and quality places.
Thus far, six other states have incorporated the Six Pillars program into their community planning efforts. The Florida Chamber Foundation has also developed a metric, called the Florida Scorecard, to measure progress over time.
"Identifying the factors influencing prosperity and quality of life is the first step to making the changes we need," Perry said. "Being able to measure these factors using the Florida Scorecard system gives us a distinct advantage, and I believe we are well on our way to achieving our goal of securing our state's economic future."
Gunster, Florida's law firm for business, provides full-service legal counsel to leading organizations and individuals from its 11 offices statewide. Established in 1925, the firm has expanded, diversified and evolved, but always with a singular focus: Florida and its client's stake in it. A magnet for business-savvy attorneys who embrace collaboration for the greatest advantage of clients, Gunster's growth has not been at the expense of personalized service, but because of it.
The firm serves clients from its offices in Fort Lauderdale, Jacksonville, Miami, Orlando, Palm Beach, Stuart, Tallahassee, Tampa, The Florida Keys, Vero Beach and its headquarters in West Palm Beach. With more than 160 attorneys and 200 committed support staff, Gunster is ranked among the National Law Journal's list of the 350 largest law firms. More information about its practice areas, offices and insider's view newsletters is available at http://www.gunster.com.