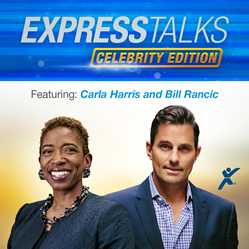 "Our hope is that every attendee walks away with practical and actionable items to change the way they do business as integral partners of the local community." - Express CEO Bill Stoller
OKLAHOMA CITY (PRWEB) April 19, 2021
Express Employment Professionals is hosting the 2021 ExpressTalks Celebrity Edition, a nationwide business leadership broadcast featuring entrepreneur, award-winning author and motivational speaker Bill Rancic, as well as Carla Harris, Vice Chairman, Managing Director and Senior Client Advisor at Morgan Stanley.
ExpressTalks Celebrity Edition will broadcast to several Express locations across the U.S. and Canada on Wednesday, April 21. Participants can register online at ExpressPros.com/ExpressTalks.
After bursting onto the scene as NBC's first Apprentice, Rancic traveled the globe, sharing why some companies thrive in chaos and others don't. He reveals what leadership behaviors are needed in a world beset by turbulence, uncertainty and dramatic change.
During his presentation, Rancic will discuss his Pause and Pivot Method, a totally new technique teaching audiences how to evaluate their business procedures in a methodical manner that will make them more productive in both long- and short-term situations.
At Morgan Stanley, Harris is responsible for increasing client connectivity and penetration to enhance revenue generation across the firm. She formerly headed the Emerging Manager Platform, the equity capital markets effort for the consumer and retail industries and was responsible for Equity Private Placements.
Harris's passion lies in helping others. As she says, "we are blessed, so that we can be a blessing to others." She vowed that when she reached senior management, she would provide people with the tools, strategies, and pearls of wisdom honed by her own experience. "Carla's Pearls" include, Authenticity: The Power is You, The 90-Day Rule and Perception is the Co-Pilot to Reality.
"Bill and Carla are inspirational business leaders and speakers that we are proud to learn from in this year's ExpressTalks Celebrity Edition," said Express CEO Bill Stoller. "Our hope is that every attendee walks away with practical and actionable items to change the way they do business as integral partners of the local community."
###
If you would like to arrange for an interview with Bill Stoller to discuss this topic, please contact Sheena (Karami) Hollander, Director of Corporate Communications and PR, at (405) 717-5966.
About Bill Stoller
William H. "Bill" Stoller is chairman and chief executive officer of Express Employment Professionals. Headquartered in Oklahoma City, Oklahoma, the international staffing company has more than 830 franchises in the U.S., Canada, South Africa, Australia and New Zealand. Since inception, Express has put more than 9 million people to work worldwide.
About Express Employment Professionals
At Express Employment Professionals, we're in the business of people. From job seekers to client companies, Express helps people thrive and businesses grow. Our international network of franchises offers localized staffing solutions to the communities they serve across the U.S., Canada, South Africa, Australia and New Zealand, employing 526,000 people globally in 2020. For more information, visit http://www.ExpressPros.com.