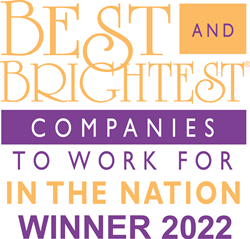 "Our future is bright. We believe inspired people can band together to make a truly productive team," said Paul Edelmann, CEO. "And that is why we do all we can to ensure that our team members are allowed the freedom and flexibility to pursue their passion within and outside the work environment."
TROY, Mich. (PRWEB) February 08, 2023
Leading provider of financial solutions for chapter-based organizations, Billhighway, has taken home the prestigious Best and Brightest Companies To Work For award for the 12th consecutive year. The company was voted Metro Detroit's 2022 Best And Brightest Companies To Work For, as well as the 2022 Best And Brightest Companies To Work For In The Nation.
"We are honored to once again have been recognized as one of the Best and Brightest Companies to Work For in Metro Detroit and the Nation," said Brenda Gallick, Executive Vice President of Team Member Success. "Our ability to infuse culture and wellness in the workday has brought us this far, and we remain committed to investing in the things that energize and bring joy to our team members. This is our recipe for success."
The Best and Brightest program celebrates top-performing businesses with a commendable commitment to upholding excellence in operations and employee enrichment. Winners are scored on regional company performance data and a standard set across the nation. Nominees are drawn from a list of companies setting new trends in human resource practices and employee enrichment initiatives that create better lives for their staff.
One such innovative practice that aided Billhighway in securing the award for the 12th time is its new hybrid work model, Billhighway Flex, which offers flexible workdays and generous PTO to allow the company's team members to balance work and family efficiently. Billhighway believes healthy and happy employees translates to greater customer satisfaction, innovative products and services, and their clients' overall success.
To help team members stay connected in a hybrid work environment, the company hosted online and in-person events like the annual Billhighway corn hole tournament, bingo, trivia, and gingerbread decorating contests. Bonusly, a peer-to-peer recognition platform, helps cultivate a culture of recognition by keeping team members engaged virtually and fosters personal connections in a fun and rewarding way.
In addition to the excellent compensation and benefits package, all team members receive generous paid vacation, charitable time off to volunteer in the community, flexible schedules, as well as paid holidays every year. Billhighway offers sabbaticals for 10, 15, and 20-year anniversaries to allow team members to recharge, spend time with their families, and pursue their dreams. Through its parental leave program, Billhighway gives new parents ample time off with full-time pay to celebrate their newborns and adopted children. They even provide the option for pet insurance.
"Our future is bright. We believe inspired people can band together to make a truly productive team," said Paul Edelmann, CEO. "And that is why we do all we can to ensure that our team members are allowed the freedom and flexibility to pursue their passion within and outside the work environment."
To learn more about Billhighway or join its community of highly motivated team members, please visit the following link: https://www.billhighway.co/about-us/careers/
For additional information, please contact Patrick Dorsey, SVP of Marketing, at pdorsey@billhighway.com.
ABOUT BILLHIGHWAY
Got Chapters? Billhighway is a Chapter Management Solution that increases ROI across your entire organization by providing technology tools to help chapters perform better; as well as delivering member engagement and component performance data to headquarters.
ABOUT THE BEST AND BRIGHTEST PROGRAMS
The Best and Brightest Companies to Work For® competition identifies and honors organizations that display a commitment to excellence in operations and employee enrichment that lead to increased productivity and financial performance. This competition scores potential winners based on regional data of company performance and a set standard across the nation. This national program celebrates those companies that are making better business, creating richer lives and building a stronger community as a whole.
###