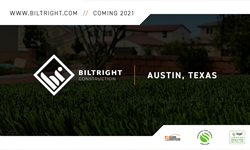 AUSTIN, Texas (PRWEB) January 07, 2021
The Backstory
Biltright Construction is a locally owned, family-run business, specializing in landscape construction services. They started off in the synthetic grass industry in 2013 with 2 employees and a small retail shop, where they sold remnants and liquidated turf products to the public. Soon after, they realized their customers needed help with installing the artificial turf. Naturally, they met the need and started designing and installing yards with their artificial grass products.
Then, with artificial grass installation, they had other requests come up, like hardscape, landscaping, and drought-tolerant ground covers, so they picked up these trades along the way. Biltright now has 35 gifted employees on their team, who share their core values and vision, and Biltright now serves both residential and commercial clients, locally. their services include landscape design, landscaping, hardscape, stonework, pavers, patio construction, custom BBQs, outdoor lighting, and more.
The Vision
When starting out, the owners of Biltright just wanted to support their families and make a living, some way, shape, or form. The business was solely focused on the dollar, so they could pay bills and enjoy their lives. While those aspects are still needed, their purpose and vision for Biltright has evolved into much more than that. They wanted to create quality of life through the business for their customers and employees. It was no longer about the dollar. It was about improving quality of life.
Biltright's vision and mission are simple: Make the best out of the resources they have, by bringing the most value to their customers. By improving their home with Biltright's products and services, they were given the opportunity to experience new memories and have a higher quality of life in the comfort of their own home. In doing so, the Biltright team members will thrive and grow in their careers, improving the quality of their lives. The team strives to experience life together at Biltright, because at the end of the day, Everyone will spend most of their professional lives with each other. A large focus of the company is personal and professional development within the company. Biltright wants to enjoy these times and flourish together while building the best home improvement company that ever existed.
The Austin Expansion
Biltright has shown much gratitude for the opportunity to continue their vision in the surrounding Austin areas, where they will be employing and building teams, locally. Biltright continues to contribute value and improve quality of life for their Austin clients and employees, and are beyond excited to start the next chapter in Texas. The Biltright team is focused on hiring local talent and building strong relationships with locally owned businesses and suppliers. Their Texas Headquarters is located in the North Austin area, out of Leander, Texas. They will be servicing areas in San Marcos, Buda, Lakeway, Dripping Springs, Bee Cave, West Lake Hills, Lago Vista, Manor, Round Rock, Georgetown, and Liberty Hill.
If you are in the neighborhood, be sure to stop by and say hello!