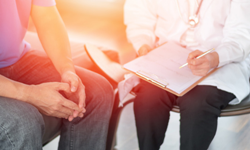 "There has been a clear and critical need for better diagnosis," notes Paul Crowe, CEO of NuView Life Sciences. We need non-invasive precision diagnostics to reduce risk in the method itself and improve patient outcomes."
PARK CITY, Utah (PRWEB) March 13, 2019
NuView Life Sciences (NVLS) subsidiary NuView Diagnostics (NVDx) is presenting the results of a recent validation study conducted by Intermountain Healthcare of its proprietary in vitro prostate cancer urine test at the Boston Oncology Investor Conference on March 14, 2019. NVDx is a pre-revenue oncology company that is focused on developing and commercializing in vitro precision cancer diagnostics to improve patient outcomes while reducing healthcare costs utilizing its patented peptide analog technology, NV-VPAC1™.
Prostate cancer is the third most commonly diagnosed cancer in the United States[1] and the third leading cause of cancer deaths in men.[2] The challenge in fighting this prevalent and dread disease is to find a means of more accurate screening that is not as invasive or risky. The relative benefits and risks of screening for prostate cancer using PSA are highly controversial[3,4]. "There has been a clear and critical need for better diagnosis," notes Paul Crowe, CEO of NuView Life Sciences. We need non-invasive precision diagnostics to reduce risk in the method itself and improve patient outcomes."
NV-VPAC1TM is a new clinical stage urine test that is being studied in clinical trials to diagnose prostate cancer. A recent study performed at Intermountain Healthcare in Salt Lake City, UT, found that cells shed in voided urine specimens of patients with prostate cancer can be imaged optically by targeting VPAC1 receptors with NV-VPAC1TM.[5] This double-blind study evaluated the NV-VPAC1TM test in subjects with biopsy-confirmed prostate cancer, benign prostatic hyperplasia (BPH), and bladder or kidney stones. A new study at KLE University, Belgaum has just initiated a similar trial using the NV-VPAC1 peptide analog.
By comparing the detection of prostate cancer to that of the control group (BPH combined with bladder/kidney stones), the sensitivity test result was 85% and the specificity of the test was 75%, superior to existing tests currently on the market. The principal investigator of the study and director of the Intermountain Urological Institute, Dr. Jay Bishoff, presented these results on February 23, 2019, at the Excellence in Urology Seminar in Park City, UT. This validation study has increased the interest of opinion leaders in NuView's VPAC1 technology and resulted in requests to be part of further evaluations of the test. NVLS Chief Medical Officer, Stephane Allard, MD, indicated that the next step for the test would be its automation to remove any subjectivity on the part of the pathologist in interpreting the results.
As governments allocate more funding for research, encouraging the use of oncology biomarkers precisely to identify tumors, NuView Life Sciences is at the forefront of research to develop new diagnostic and therapeutic technologies that make use of cellular markers to pinpoint unequivocally cancerous cells for treatment. The continued focus on precision medicine for cancer diagnostic tests reflects the needs and preferences of healthcare consumers and the industry as a whole.[3]
Crowe says, "We can expect to see newer approaches diagnosing and treating cancer in the near future. These new technologies will help increase the likelihood of personalized treatments being effective in eliminating cancer in diagnosed patients."
About The Boston Oncology Investor Conference
The Boston Oncology Investor Conference 2019 @Cowen Healthcare Week will take place March 14-15, 2019 and is organized by OneMed Forum, and sponsored by the National Foundation for Cancer Research, the International Cancer Impact Fund, Klosters Innovation Partners, McDermott Will & Emery, Torreya Partners, and Marcum. The event sponsor is McDermott Will & Emery.
Join the leading life science and oncology venture capitalists, family offices, lawyers, pharma executives, startup public and private cancer companies, and cancer foundations for a discussion of trends, opportunities, and risks in oncology investing, corporate presentations by a select group of public and private oncology companies, and updates on cutting edge science.
Features of the 2-day conference include more than 80 investors, 30 presenting companies, four informative panels, three keynote speakers, a networking reception, and spaces for one-on-one meetings. For more information visit https://www.oncologyinvestorconference.com/
About NuView Life Sciences
Founded in 2005, NuView Life Sciences is a precision oncology company in Park City, Utah, working to improve the way cancer is diagnosed and treated. NuView is focused on creating precision cancer diagnostics and therapeutics to improve patient outcomes while reducing healthcare costs through the development and clinical application of its exclusive patented peptide analog technology, NV-VPAC1TM.
Led by a team of industry experts with decades of combined experience in healthcare and medical imaging technologies, NuView is poised to change how we look for and respond to cancer. To learn more about NuView Life Sciences, visit http://nuviewlifesciences.com.
Sources:
1. National Cancer Institute Surveillance, Epidemiology, and End Results Program. Cancer Stat Facts: Prostate Cancer. 14 October 2017. Web.
2. American Cancer Society. Key Statistics for Prostate Cancer. 15 October 2017. Web.
3. Chou R, Croswell JM, Dana T, Bougatsos C, Blazin I, Fu R, et al. Screening for prostate cancer: a review of the evidence for the U.S. Preventive Services Task Force. Ann Intern Med. 06 December 2011.
4. Schroder FH, Hugosson J, Roobol MJ, Tammela TL, Ciatto S, Nelen V, et al. Prostate-cancer mortality at 11 years of follow-up. N Engl J Med. 15 March 2012.
5. Trabulsi EJ, Tripathi SK, Gomella L, Solomides C, Wickstrom E, Thakur ML. Development of a voided urine assay for detecting prostate cancer non-invasively: a pilot stury. BJU Int. June 2017.