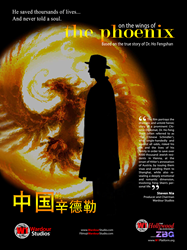 "The film portrays the dramatic and untold heroic story of a prominent Chinese Diplomat, Dr. Ho Feng Shen (often referred to as 'The Chinese Schindler'), who single-handedly and against all odds, risked his life and the lives of his family in order to save over 4,000 thousand Jewish residents in Vie
CANNES, France (PRWEB) May 23, 2019
Wardour Studios™, a Hollywood based film production and distribution company, specializing in Hollywood-China co-productions and co-financing, has agreed to produce the feature film On the Wings of the Phoenix.
The story, written by Emmy award winner, Rob Travalino ("Growing Up Creepie" and "Dragon Booster" tv series), is based on the true-life story of Dr. Ho Feng Shan (the Chinese Consul General in Vienna, Austria, during World War II).
"The film portrays the dramatic and untold heroic story of a prominent Chinese Diplomat, Dr. Ho Feng Shen (often referred to as 'The Chinese Schindler'), who single-handedly and against all odds, risked his life and the lives of his family in order to save over 4,000 thousand Jewish residents in Vienna, at the onset of Hitler's annexation of Austria, by issuing them visas and sending them to Shanghai, while also revealing a deeply emotional and romantic dimension, involving Feng Shen's personal life," stated Steven Nia, Producer and Chairman of Wardour Studios.
The film will be co-produced by the London based GFM Films, in association with Smokestack Films and Trimax Media, with all rights available worldwide. Producers on the project include Steven Nia of Wardour Studios ("Crossroads to Shalom", "Speed of Light"), Angelina Leo of Wardour Studios ("The Dome", "Moonlight Sonata"), Chris Bongirne of Smokestack Films ("Marshall", "Blackout") and Alan Glazer ("Get Smart", "The Bank Job").
"This is a wonderful and little-known piece of history and its parallel with the Schindler story is quite fascinating. We're very happy to be working with Wardour Studios to bring this story to the screen," said Michael Ryan, partner at GFM and Chairman of Independent Film & Television Alliance (IFTA).
W1 Platform™ - the Hollywood Blockchain ™ will take a proactive role in the financing and streaming of the film. "W1 Platform's mission is to finance and stream unique and compelling films, with a significant global message and impact, which would also enhance our Hollywood-China production model, and Dr. Ho Feng Shen's humanitarian courage and captivating story is precisely one such film," stated Angelina Leo, Actress and CEO of W1 Platform.
"Rob Travalino conceived a compelling and visual story about the humanity of a Chinese person and his role in saving the lives of those who would have perished in the world's largest mass genocide," stated Smokestack's Bongirne. "This is a unique story about the survival of thousands of German and Austrian Jewish families whose lives would have been lost if not for Ho Feng Shan," said Glazer.
Ho Feng Shan has been heralded worldwide for his thoughtful and compassionate acts of heroism, including being honored as "Righteous Among Nations" at the Yad Vashem Memorial (one of only two Chinese to be honored), as well as receiving recognition by the United Nations, Israel and the United States.
The film is expected to shoot in Europe and China. Steven Nia and Albert Spevak will Executive Produce.
About Wardour Studios:
Wardour Studios is a state of the art, next generation, film studio, with solid artistic and advanced technology foundation. Wardour Studios is the ultimate digital studio, with expertise in the production and distribution of feature films, TV, visual effects, VR - virtual reality, AR - augmented reality, which is addressing and exploiting the emerging challenges in the global, and specifically in the Hollywood and China entertainment landscape. Wardour Studios continues to grow into a vertically integrated global content platform of increasing diversity, reach and scale. The Company's portfolio of assets includes film and television libraries, a world-class film business and an expanding global distribution footprint.
Wardour Studios' management has the mission of creating and evolving a truly next generation film studio, which is emerging as a leading global entertainment company, with a fast growing and diversified presence in the motion picture production and distribution, television programming, and advanced digital streaming platform, with global 4K Content Delivery Network (CDN).
For more information please contact: http://www.WardourStudio.com PR@WardourStudio.com Tel: +1 213 293-5666
About W1 Platform - The Hollywood Blockchain:
W1 Platform - The Hollywood Blockchain is an entertainment ecosystem based on the advanced blockchain technology, and Smart Web 3.0 infrastructure. W1 Platform is designed for ultra-fast performance, providing a platform with highly sophisticated decentralized blockchain network for secure and accountable financing, production, and global exploitation of Films, TV, Virtual Reality (VR), Augmented Reality (AR), Games, Music and other entertainment content.
W1 Platform defines a new paradigm in the entertainment industry, enabling an ideal entertainment business model for Digital Assets, Digital Rights Management (DRM), Digital ID, and Smart Contracts, with implications far beyond streaming film and TV, and other digital content. On W1 Platform™, filmmakers, producers, composers, musicians, talents, gamers, and all other users can secure their property rights and monetize content. W1 Platform™ further empowers its community with peer-to-peer (P2P) connectivity, enabling them to conduct sophisticated transactions of their own, based on their designated business model, all of which would be encoded in smart contracts.
The architecture, design, and business model for W1 Platform originated from Hollywood based Wardour Studios. The innovations of W1 Platform creates the ultimate entertainment ecosystem, through which a community of hundreds of millions may enjoy and monetize Ultra High Definition (UHD 4K) streaming movies, programmed and live TV, music and concerts, sports, all events, catch-up TV, network recording, gaming, as well as emerging VR/AR and AI based entertainment contents.
Currently, W1 is exclusively presented and traded on ZBG Global Exchange, making it available to viewers worldwide.
For more information please contact: http://www.W1Platform.org PR@W1Platform.org Tel: +1 213 293 5666
About GFM Films:
GFM's principal aim is to develop, produce, finance and sell independent movies and television films & series. Alongside the parent company we also have GFM Animation and GFM Evolution. Founded in March 2011 by Guy Collins, Fred Hedman and Michael Ryan, the company takes film & television projects from development through to completion and delivery to distributors.
Collins and Ryan have between them financed, sold and produced over 250 films, including "The Wild Geese", "The English Patient", "The General", "What's Eating Gilbert Grape", "The Osterman Weekend", the "Highlander" series, "Planet 51" and with Hedman, Toei Animation's "Harlock: Space Pirate", "Absolutely Anything" (starring Simon Pegg), high octane action thrillers "Stratton" (starring Dominic Cooper) and "All The Devil's Men" (starring Milo Gibson, Sylvia Hoeks & William Fichtner) and animated titles "Duck Duck Goose" (featuring the voices of Zendaya, Jim Gaffigan & Stephen Fry) and "Here Comes The Grump" (featuring the voices of Lily Collins, Toby Kebbell and Ian McShane).
GFM continues to expand our slates across the three companies, covering both animated and live action feature films.
About Smokestack Films:
Founded by producer Chris Bongirne, Smokestack Films takes its name from the coal rich area of Pennsylvania where he grew up. Chris has always likened the process of filmmaking to the factories of his youth; places where entire communities came together using their talent, commitment and work ethic to forge raw materials into a source of energy that everyone can benefit from.
About Trimax Media:
Los Angeles based Trimax Media is deeply rooted in the symbiotic relationship between creative artists, content development and distribution. A multi-media company, Trimax will focus on the financing, development and sales/distribution of popularized programming and content in the feature film, television, and digital arena. The company, founded by 25-year entertainment industry executive Alan Glazer, will be based in Los Angeles with offices in London.