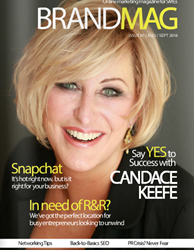 Saying yes can be a great remedy of stagnation and help a professional reignite their passion for their work.
Danvers, MA (PRWEB) August 31, 2016
BrandMag, an online magazine for SMEs and aspiring business owners recently ran a front-page feature on Bioceutica's very own Candace Keefe. In the piece, CEO Candace Keefe was asked about the lifestyle brand's recent 'Just Say Yes' social media campaign and talked about how in business, professionals can't afford to say no.
Candace Keefe revealed to BrandMag that she is currently on a mission to encourage people to say yes more often. She outlined that so many people in business have incredible potential to make something of themselves, yet are too afraid of taking the first step and saying yes to change. Keefe also shared how she firmly believes it is the responsibility of established entrepreneurs and business CEOs to share the benefits of saying yes to change and to communicate that it's natural to feel daunted but that this feeling will pass – it's no reason not to chase new opportunities.
About Bioceutica: https://www.bioceutica.com/Company/OurMission.aspx
Candace Keefe went on to say how saying yes can be a great remedy of stagnation and help a professional reignite their passion for their work. It is also paramount for professionals to stretch their comfort zone as well as build up the resilience and positive spirit needed to overcome challenges and achieve great things, both personally and professionally.
In the feature, Candace Keefe also shared her top 5 reasons for saying yes, which are outlined below:
1. Experience something new – Saying yes opens doors and can be a great way for professionals to feel comfortable putting themselves 'out there'.
2. Find opportunities – While not every yes will lead to something wonderful, saying no to invitations and events could mean missing out on a potential partnership, business connection or growth opportunity.
3. Overcome fear – People say no because they don't want to break out of the safety of their routines. However, the more a person says yes, the more confident they will become.
4. Meet new friends – There is no way of knowing who is at the end of a yes and some great, long-lasting friendships could be just around the corner.
5. Leaving your comfort zone – Stepping out of their comfort zone keeps professional's mentally sharp, teaches life lessons and introduces them to parts of the world they may have otherwise missed.
Bioceutica is a leading lifestyle brand that provides a wide range of cosmeceuticals and nutraceuticals aimed at helping people achieve health and wellbeing through tailored nutrition and natural, environmentally friendly products. Bioceutica believes everyone deserves the opportunity to live a healthy and natural lifestyle through custom nutrition, skincare and cosmetics that focus on offering real results.
To read the full BrandMag feature on Bioceutica's Candace Keefe and her 'Just Say Yes' Campaign, click here.