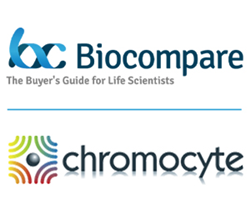 We are excited to continue the Chromocyte mission of educating and providing resources to the flow cytometry community.
SAN FRANCISCO (PRWEB) November 23, 2021
CompareNetworks, Inc., a leading provider of online B2B marketplaces for the scientific and healthcare industries, today announced the asset acquisition of Chromocyte Limited, a website that serves the flow cytometry community and market.
Chromocyte will join Biocompare, the life science industry's leading resource for helping scientists find products for their research. Biocompare is part of CompareNetwork's extensive portfolio that serves the scientific marketplace.
"Flow cytometry is a key market that Biocompare serves," said Joan Boyce, Vice President and General Manager of Biocompare. "Biocompare and Chromocyte have complementary missions - educating the flow cytometry community, and for that reason we are excited to continue the Chromocyte mission of educating and providing resources to the flow cytometry community."
Chromocyte was first developed by Graham Pockley, PhD, Professor of Immunobiology at Nottingham Trent University, as an online tool and resource to make it easier to design panels for flow experiments.
"My research focuses on using tools like multiparameter flow cytometry to understand the immunoregulatory mechanisms underlying disease states," said Dr. Pockley. "The goal behind developing Chromocyte was to make experimental design easier, and more accurate and reproducible. I am delighted about this acquisition, as Biocompare is the perfect partner to carry on Chromocyte's mission to educate, enable and improve flow cytometry practice."
In addition to the website, Chromocyte also publishes a series of email newsletters as well as a 'sister' site that focuses on flow cytometry related job openings (http://www.flowcytometryjobs.com). For more information on Chromocyte, visit http://www.chromocyte.com.
Chromocyte
Chromocyte (http://www.chromocyte.com) is an impartial and innovative online resource for designing complex multi-parameter flow cytometry antibody panels and finding the reagents and antibodies that are required for these and other related techniques. Based on the extensive academic background in flow cytometry of its Founder, Chromocyte has been developed to provide invaluable insights into current developments and address specific needs of the academic, research, clinical and commercial flow cytometry communities.
Biocompare
Biocompare (http://www.biocompare.com) is the leading resource for up-to-date product information, product reviews, and new technologies for life scientists. Biocompare combines an in-depth knowledge of life science products and new technologies with the power of the Internet to offer scientists the most dynamic, relevant, and innovative resource that enables them to make better product, technology, and service purchasing decisions. Produced by scientists, Biocompare's mission is to provide free, time-saving services to life science researchers, allowing scientists to find and learn about the technologies that drive discovery. Biocompare continually strives to serve the life science community by providing new and improved online services that facilitate product discovery and technology education.
CompareNetworks, Inc.
CompareNetworks (http://www.comparenetworks.com) operates targeted, online, B2B marketplaces for professionals worldwide. Focused on providing detailed product information for niche markets, CompareNetworks integrates online marketplaces, email newsletters, award-winning video, whitepapers and editorial content to bring buyers and sellers together. With an extensive directory of millions of products and parts with complete specifications and thousands of product videos, CompareNetworks provides the most up-to-date B2B marketplaces on the Web.