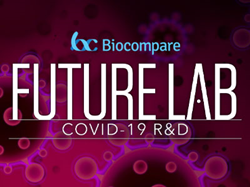 Showcasing novel tools & technologies, scientific findings, and diagnostic and therapeutic advances related to the COVID-19 pandemic is consistent with our mission to educate scientists in the latest technology while providing tool providers with a unique way to engage with our audience.
SOUTH SAN FRANCISCO, Calif. (PRWEB) July 03, 2020
The latest SARS-CoV-2 news, enabling technologies, and promising scientific breakthroughs are prominently featured in Biocompare's latest content hub—Future Lab: COVID-19 R&D.
Future Lab is an interactive information resource designed to showcase the latest advancements, trends, news, and products within specific scientific niches. Since their launch four years ago, the Future Lab content hubs have become indispensable resources to life scientists around the world. The hubs are updated weekly, and regular alerts drive engagement with registered users.
The COVID-19 R&D Future Lab puts all of Biocompare's Coronavirus-related content directly at users' fingertips. The easy-to-navigate microsite breaks the content down by Research, Diagnostics, and Therapeutics, and includes overview articles, explanatory infographics, must-see guides, and expert tips. Educational information from the seven sponsoring companies—Acro Biosystems, Candor, Mabtech, PerkinElmer, Precision for Medicine, Sartorius, and Sino Biological—is also included.
Previous Future Labs have focused on other fundamental topics in life science research including Optimizing Workflows in the Life Sciences, Automated Sample Prep, Antibody Therapeutics, Genetic Analysis, Live Cell Imaging, Protein Production, Immunodetection, Cell Culture, Liquid Handling, Next Generation Sequencing, Flow Cytometry, and Biopharmaceutical Analysis.
"Being able to expand our Future Lab offerings to include the latest enabling tools and technologies, scientific findings, knowledge, and diagnostic and therapeutic developments related to the COVID-19 pandemic has been immensely satisfying for our team as well as consistent with our mission to educate scientists in the latest technology while providing the tool provider community a unique and novel way to engage with our audience. We are grateful to the sponsors who helped make this content hub an indispensable resource for the more than 3.3 million scientists who visit Biocompare every year."
About Biocompare
Biocompare, a Division of CompareNetworks, Inc., is the leading resource for up-to-date product information, product reviews, and new technologies for life scientists. Biocompare combines an in-depth knowledge of life science products and new technologies with the power of the Internet to offer scientists the most dynamic, relevant, and innovative resource that enables them to make better product, technology, and service purchasing decisions. Produced by scientists, Biocompare's mission is to provide free, time-saving services to life science researchers, allowing scientists to find and learn about the technologies that drive discovery. Biocompare continually strives to serve the life science community by providing new and improved online services that facilitate product discovery and technology education. For more information, please visit http://www.biocompare.com.