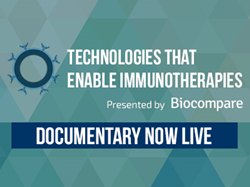 Immunotherapies have absolutely changed the way researchers and clinicians are approaching cancer treatment
SOUTH SAN FRANCISCO, Calif. (PRWEB) June 02, 2020
Biocompare, the leading online information resource for the life sciences, has released a documentary entitled "Technologies That Enable Immunotherapies". This four-part video takes an in-depth look at how the development of more robust analytical tools has impacted Immunotherapies, one of the most exciting areas of cancer therapeutics available today.
"Immunotherapies have absolutely changed the way researchers and clinicians are approaching cancer treatment," explains Michael Okimoto, Ph.D., Chief Content Officer of CompareNetworks, the parent company of Biocompare, "And the tools that are used to analyze, assess and monitor these therapies are becoming more and more powerful. We felt that it's important to educate the life science community about exactly what these tools can and cannot do to help them allocate their resources appropriately."
As treatments like checkpoint inhibitors and CAR T-cell therapies become the standard of care for many different malignancies the types of information needed about the individual cancers become greater. This includes things like whether or not there are infiltrating lymphocytes, what the genomic profile is, what the proteomic profile looks like, how the tumor is changing over time and much more. There are many different technologies to perform these types of analyses and knowing which one is best suited for each question is an important part of ensuring the treatment will be a success.
"It has been clear that Immunotherapies have been a major focus for many biotechnology and pharmaceutical companies for some time," says Joan Boyce, Vice-President and General Manager of Biocompare, "But we felt there was a need for a piece that puts the different analytical technologies side by side to make it clear what questions each is best suited to answer."
About Biocompare
Biocompare, a Division of CompareNetworks, Inc., is the leading resource for up-to-date product information, product reviews, and new technologies for life scientists. Biocompare combines an in-depth knowledge of life science products and new technologies with the power of the Internet to offer scientists the most dynamic, relevant, and innovative resource that enables them to make better product, technology, and service purchasing decisions. Produced by scientists, Biocompare's mission is to provide free, time-saving services to life science researchers, allowing scientists to find and learn about the technologies that drive discovery. Biocompare continually strives to serve the life science community by providing new and improved online services that facilitate product discovery and technology education. For more information, please visit https://www.biocompare.com.