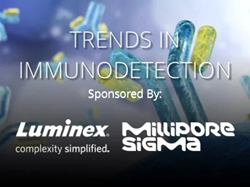 SAN FRANCISCO (PRWEB) November 16, 2021
Through a collaboration with Luminex and MilliporeSigma, Biocompare has revamped its Immunodetection-focused content hub to include more of the information that life science researchers need to stay up to date on the latest technologies, methods, and trends related to antibody-based techniques.
Future Lab: Trends in Immunodetection has, since its initial launch in 2016, been an integral resource for thousands of researchers who use antibodies for western blotting, ELISA, multiplexing, and more. With an extensive collection of eBooks, webinars, infographics, product reviews, and articles this iteration is destined to be even more heavily accessed.
Osama Shakeel Sait, Product Manager, MilliporeSigma, recognizes the ease of use and value of the content hub, explaining, "Future Lab offers researchers the opportunity to easily locate informative scientific content. Find the latest trends and innovations in the field of immunodetection at Future Lab."
"We are really excited to have developed this platform to allow the 3 million scientists who visit Biocompare each year to be able to consume content in a much more engaging environment. This fully supports Biocompare's mission to educate scientists in the latest technology while providing the tool provider community a unique and novel way to engage with our audience," adds Joan Boyce, VP & GM of Biocompare.
About Biocompare
Biocompare, a Division of CompareNetworks, Inc., is the leading resource for up-to-date product information, product reviews, and new technologies for life scientists. Biocompare combines an in-depth knowledge of life science products and new technologies with the power of the Internet to offer scientists the most dynamic, relevant, and innovative resource that enables them to make better product, technology, and service purchasing decisions. Produced by scientists, Biocompare's mission is to provide free, time-saving services to life science researchers, allowing scientists to find and learn about the technologies that drive discovery. Biocompare continually strives to serve the life science community by providing new and improved online services that facilitate product discovery and technology education. For more information, please visit http://www.biocompare.com.