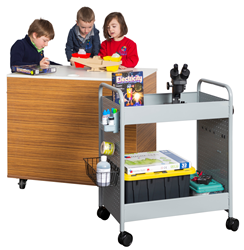 BioFit is pleased to partner with TIPS to provide its members with what we believe are the best ergonomic seating, mobile folding table and cart products available for today's learning environments
BOWLING GREEN, Ohio (PRWEB) June 29, 2020
The Interlocal Purchasing System (TIPS), a national cooperative that offers access to competitively procured purchasing contracts to its membership, recently named BioFit Engineered Products an Awarded Vendor. Awarded Vendor status enables BioFit to provide TIPS members with the opportunity to purchase ergonomic seating, cafeteria tables, book trucks and carts at discounted pricing without the delay and expense traditionally associated with bidding processes.
On being recognized as a TIPS Awarded Vendor, BioFit President Ed Metzger commented: "BioFit is pleased to partner with TIPS to provide its members with what we believe are the best ergonomic seating, mobile folding table and cart products available for today's learning environments. Putting the well-being of students and users in general at the forefront has always been a touchstone at BioFit, and being able to offer our versatile, proven, easy-to-clean products at a no-bid discount is a win all around."
BioFit is a global leader in the design and manufacture of furnishings for a range of markets and delivers solutions for a variety of educational environments, including technology, laboratory, vocational, dining, library, classroom and office settings. Offerings include a comprehensive collection of ergonomic seating, nearly six dozen cafeteria/mobile folding table models and numerous configurations of multipurpose steel carts and book trucks. BioFit products are designed for long-lasting performance and with the well-being of users in mind: All products meet or exceed rigid industry standards; nearly all seating and table models are LEED® compliant for commercial interiors; all tables are GREENGUARD® Gold certified for low VOC emission levels. Plus, nearly every product is backed by a 13-year warranty.
To learn more about how BioFit supports TIPS member agencies through Awarded Vendor contract 200301, visit tips-usa.com or email liz.sworden@biofit.com. For additional information on BioFit, including details on all products, markets and value-added services, visit biofit.com or call 800.597.0246.