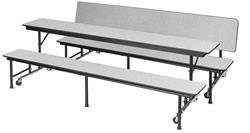 ... no child can perform at their best if they're hungry .... That's why we're proud to partner with School Lunch Fairy in their fight against student hunger.
BOWLING GREEN, Ohio (PRWEB) July 07, 2020
BioFit Engineered Products, a global leader in the design and fabrication of technical ergonomic seating and commercial furnishing solutions, announced that it is donating a percentage of proceeds from the sale of select table models to School Lunch Fairy, a nonprofit organization with a mission of ensuring students are served a decent daily lunch. Contributions from BioFit will be distributed to public school districts nationwide by School Lunch Fairy to set up emergency lunch funds for students with unpaid lunch balances.
Studies show that inadequate school lunch funding across the country is a significant issue. According to School Lunch Fairy, approximately 25 million public school students do not qualify for a free lunch, and those with unpaid school lunch balances frequently do not receive lunch fare comparable to that provided to students with current balances or, in many cases, go without a meal altogether. Thus, the organization was established as a crowd-funding platform to raise money to setup emergency lunch funds at public schools across the nation to alleviate the problem. To support the charity's school emergency lunch funding, BioFit has committed to donate $10 from the sale of every mobile folding cafeteria table with affixed seating and $5 from the sale of every one of the company's AdapTable convertible bench tables to School Lunch Fairy.
"Promoting the well-being of our users has always been the primary objective of BioFit," shared company president, Ed Metzger. "But regardless of how comfortable or well-designed our products are, no child can perform at their best if they're hungry, undernourished or worried about being shamed because they can't pay for lunch. That's why we're proud to partner with School Lunch Fairy in their fight against student hunger, and we figured what better way to contribute than through our cafeteria table sales," he concluded.
BioFit is a global leader in the design and manufacture of furnishings for a range of markets and delivers solutions for a variety of educational environments, including technology, laboratory, vocational, dining, library, classroom and office settings. Offerings include a comprehensive collection of ergonomic seating, nearly six dozen cafeteria/mobile folding table models and numerous configurations of multipurpose steel carts and book trucks. BioFit products are designed for long-lasting performance and with the well-being of users in mind: All products meet or exceed rigid industry standards; nearly all seating and table models are LEED® compliant for commercial interiors; and, all tables are GREENGUARD® Gold certified for low VOC emission levels. Plus, nearly every product is backed by a 13-year warranty.
To learn more about School Lunch Fairy, visit https://www.schoollunchfairy.org. For additional information on BioFit, including details on all products, markets and value-added services, visit biofit.com or call 800.597.0246.