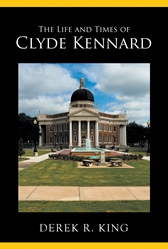 PHOENIX (PRWEB) January 28, 2019
With many recognizable names from the American civil rights movement, figures who have been overlooked by history nevertheless have their own compelling stories. "The Life and Times of Clyde Kennard" by Derek R. King is a biography on the forgotten history of Clyde Kennard, a man who used his desire for education to challenge institutionalized segregation in Mississippi after being denied admission.
For many, Kennard's attempt to enroll at Mississippi State College (now the University of Southern Mississippi) is viewed as the first serious attempt to integrate any public school at the college or higher level in Mississippi. This book tells the compelling story of his attempt to enter MSC, placed in the context of key events in the civil rights movement.
King spent over 10 years conducting research on the book. He also accumulated over 100 books related to the project, in addition to periodicals from the 1950s-1960s and newspaper articles from Mississippi.
"The more I researched and discovered, the more I became extremely passionate and driven," said King. "For me, it is an important story that needs to be told and given a chance to reach the surface."
This book presents an extensive look into Kennard's life. Although his struggles were overshadowed by James Meredith's admission to the University of Mississippi, his story is an uplifting and inspiring example of perseverance, hardship, and committed determination to right wrongs.
"The Life and Times of Clyde Kennard"
By Derek R. King
ISBN: 9781483491356 (softcover); 9781483491363 (hardcover); 9781483491349 (eBook)
Available at the Lulu Online Bookstore, Amazon and Barnes & Noble
About the author
Derek R. King spent over 10 years conducting research for "The Life and Times of Clyde Kennard" and 16 years overall studying and researching civil rights struggles and the reaction to them in Mississippi between 1954-1964. He is married and currently lives in Scotland. To learn more, please visit http://www.clydekennardlifeandtimesof.com.
General Inquiries:
LAVIDGE – Phoenix
Bryan Beach
480-306-6554
bbeach(at)lavidge(dot)com
Review Copies & Interview Requests:
LAVIDGE – Phoenix
Kiersten Woglom
480-998-2600 x 586
kwoglom(at)lavidge(dot)com