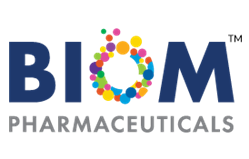 "As new immune-thwarting, highly infectious Omicron variants such as BA.2 emerge, we need a greater arsenal against SARS-CoV-2" Dr. Bobban Subhadra, founder and president of Biom Pharmaceuticals
SARASOTA, Fla. (PRWEB) February 03, 2022
Biom Pharmaceuticals announced today that the preclinical studies of antiviral preparation Bi121 showed significant antiviral activity against various strains of SARS-CoV-2 and posted the preliminary results in the bioRxiv preprint collections.
The SARS-CoV-2 pandemic infected 373 million with over 5.65 million deaths, markedly affecting human life and existence. In the US alone over 875,755 deaths have been reported. Omicron and subvariants of Omicron (BA.2) are spreading at an alarming rate. Broad-spectrum viral inhibitors may block the initial stage of infection by reducing virus proliferation and disease severity. An antiviral formulation that has significant antiviral activity against current and future variants of SARS-CoV-2 is a global medical need. After screening a prospective seventy-three herbal compounds from Biom Pharmaceutical's library, two preparations showed antiviral SARS-CoV-2 activity, of which Bi121 showed broad-spectrum activity. To test the antiviral activity of Bi121 against three different variants of SARS-CoV-2 (USA WA1/2020, Hongkong/VM20001061/2020, B.1.167.2 Delta), Biom Pharmaceuticals has collaborated with the Center for Infectious Disease Research at Indian Institute of Sciences (IISc), Bengaluru, India. Bi121 showed significant activity towards all three variants tested, in two different cell lines showing a broad-spectrum activity.
"What started out as a small side project to explore whether any of the compounds in our library demonstrated antiviral activity against SARS-CoV-2 led us to Bi121. The tricky part was how do you do these studies that require secure facilities like Biosafety level-3 labs," said Biom's founder and president, Dr. Bobban Subhadra. "Thanks to Indian Institute of Science (IISc) we are honored to collaborate with Dr. Amit Singh at the Center for Infectious Disease Research, Indian Institute of Science, who had expertise and access to BSL-3 facilities and strains to complete the preclinical work As new immune-thwarting, highly infectious Omicron variants such as BA.2 emerge, we need a greater arsenal against SARS-CoV-2," he added.
Biom Pharmaceuticals is exploring strategic partnerships to further develop Bi121 as a therapeutic candidate, and currently testing its in vivo efficacy in animal models. Biom Probiotics is marketing a dietary supplement that contains Bi121 together with Biom's gut microbiome diversifying prebiotics (Diversify®), under the brand Biom D'Fend.
"While we expand the studies for the clinical development of Bi121, we wanted to offer this as a supplement product that is available now to consumers. The formulation is intended to help with long Covid symptoms," Said Vijitha Viv, Biom's Chief Operations Officer.
To find out more, please visit https://biomprobiotics.com/product/biom-dfend-pelargonium-prebiotics/
bioRxiv: https://www.biorxiv.org/content/10.1101/2022.01.29.477140v1
About Biom Pharmaceuticals (https://biompharma.com/)
Biom Pharmaceutical is committed to the lofty goal of adding healthy years to the human lifespan by regulating the human microbiome through probiotics. This mission is at the heart of everything at Biom, from early research to product development. Biom Pharmaceuticals is a pioneer in microbiome technology with five issued US patents and has developed LiveBiom® Fermentation Technology to create humanized designer microbiome that has wide applications in human health and disease including immune regulation, cardiometabolic health, vaginal health, and neurodegeneration. Biom has developed True-To-Label nutritional supplements and has four consumer brands with twenty-three products in the market; Biom Probiotics® Total Gut Health products, VagiBiom® Feminine Care Products; Longiva® Antiaging and Longevity products, and LeanBiom® metabolic weight maintenance products.
Media Contact:
Vijtha Viv, Chief Operations Officer
Biom Pharmaceutical Corporation.
info@biompharma.com
Ph: 941-552-8417