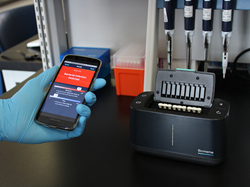 PHILADELPHIA (PRWEB) August 26, 2021
Biomeme, the leading provider of portable PCR testing solutions, has signed a definitive agreement to acquire Predigen, a privately held diagnostic company and emerging leader in precision medicine focused on host response diagnostics. Predigen's acquisition will expand Biomeme's capabilities across infectious disease and clinical microbiology, business management, and commercialization.
Predigen's portfolio includes flagship host gene expression biomarkers for the pre-symptomatic detection of viral infections as well as biomarkers that accurately discriminate viral from bacterial infections to enable appropriate patient management and antibiotic stewardship. Predigen also has signatures for sepsis diagnosis, sepsis risk stratification, and a pipeline of biomarkers for non-infectious diseases. With nine different patents at various stages of execution, this scientific team has received over $50 million in grant funding from the Department of Defense (DoD), National Institutes of Health (NIH), Department of Veterans Affairs (VA), and Department of Homeland Security (DHS).
According to Brian Best, Predigen's CEO, "Prior to the pandemic, the over-utilization of antibiotics and increasing antimicrobial resistance were dominant concerns among the infectious disease community. That need still exists and it is a significant market opportunity that requires accurate, near-patient and rapid-result performance capabilities. This merger will enable an end-to-end solution to meet this challenge."
Biomeme's portable quantitative real-time PCR platforms enable precise measurement of these host transcriptional response signatures for use in a wide variety of settings including, but not limited to, hospitals, emergency departments, physician offices, clinics, nursing homes, pharmacies, schools, cruise ships, employers, and military.
With Predigen's deep host response portfolio and Biomeme's expertise in qPCR consumables, hardware, and software, the new and improved company is equipped to launch their first host response diagnostic platform as early as 2023.
"It has long been clear that tests to reliably distinguish bacterial and viral infections simply don't exist on the market. We are now on the verge of introducing a revolutionary technology to the medical community: measuring host gene expression at the point-of-need to inform appropriate use of antibiotics," said Predigen co-founder, Ephraim Tsalik, MD, PhD.
Over the years, Biomeme and Predigen have worked successfully together on numerous projects, including the Antimicrobial Resistance (AMR) Challenge and the Congressionally Directed Medical Research Program (CDMRP, DoD). The companies have collaborated to support the Department of Homeland Security's Cross-Border Threat Screening and Supply Chain Defense. The NIH's Antibacterial Resistance Leadership Group (ARLG) has also sponsored development of the Bacterial vs. Viral host response test with ongoing support for its validation.
"Biomeme's mobile molecular detection solutions have been utilized for bio-surveillance by the Defense community for many years," said Biomeme co-founder and Business Lead, Max Perelman, "With the explosive growth of our human diagnostic solutions offered during the COVID-19 pandemic, Biomeme is well-positioned to deliver next generation diagnostics in Host Response, infectious diseases, and more."
This merger is the next step in a successful and innovative partnership. Combining Predigen's tests with Biomeme's portable gold-standard platforms will deliver a better diagnostic solution for use in diverse healthcare settings. It is only the first step in pursuit of a mutual vision to deliver precision medicine solutions wherever patients and providers need them.
Predigen's scientific team has published extensively in the area of host response. Examples of these peer-reviewed scientific achievements and the team's research bibliographies can be found here.
About Biomeme
Biomeme revolutionized molecular detection in 2012 when it created the first smartphone-based real-time PCR thermocycler. Since its inception, Biomeme has used advanced biology and chemistry, along with world-class hardware and software engineering, to create elegant solutions to complex problems.
Headquartered in Philadelphia, USA, with offices in 7 other US cities, Biomeme offers a full suite of end-to-end mobile molecular detection solutions that perform to the gold standard used by the world's most advanced central labs yet require no lab equipment or special experience to use. It's wholly owned lab services network, One Health Laboratories, specializes in rapid diagnostic testing services across the US, and most recently provided COVID testing services for major film and commercial production studios, major events, K-12 schools and universities, and federal contractors with unvaccinated personnel.
To find out more about Biomeme, visit biomeme.com.
About Predigen
A spin-out from Duke University, Predigen is a global leader in the development of host gene expression signatures for use as prognostic, diagnostic, and therapeutic monitoring tools. Predigen's science is built on many years of experience, tens of thousands of patients enrolled globally, hundreds of thousands of biospecimens, and advanced machine learning. Over the past decade, Predigen has pioneered the use of host response to diagnose and manage disease, and as a result has developed robust host gene expression signatures that address unmet needs in medicine.
To find out more about Predigen, visit predigen.com