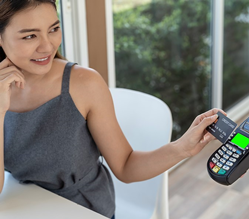 Credit cards have proven attractive targets for fraudsters. The payment industry is counting on biometric credit cards to increase security while retaining ease of use.
HOBOKEN, N.J. (PRWEB) June 09, 2021
A NYC area cybersecurity expert explains biometric credit card technology in a new article on the eMazzanti Technologies website. The informative article first discusses the evolution and importance of contactless payment options.
The author then explains biometric credit cards and the use of thumbprint technology in the payment process. She goes on to list several benefits of the new cards, including ease of use, increased security, anti-spoofing, and self-charging technology.
"Credit cards have proven attractive targets for fraudsters," stated Jennifer Mazzanti, CEO, eMazzanti Technologies. "The payment industry is counting on biometric credit cards to increase security while retaining ease of use."
Below are a few excerpts from the article, "Contactless Biometric Credit Cards Combine Next Gen Security with Ease of Use."
Consumers Embrace Contactless Payments
"Along with accelerating digital transformation, 2020 highlighted the importance of contactless payment options. Restaurants encourage patrons to look at menus and even order through mobile apps. Stores increasingly refuse to accept cash payments. And consumers hesitate to hand over a card or sign with a pen that others have used before them."
Biometric Credit Cards Explained
"Following hundreds of pilot projects, several companies have announced the deployment of biometric credit cards, certified by both Visa and Mastercard. The cards use embedded fingerprint sensors to verify the identity of the person using the card for in-store purchases."
"When customers obtain a new biometric card, they enroll their thumbprint on the card, just as they would on a smartphone. Then, to make a purchase, they hold the card over the EMV terminal like normal, with their thumb on the built-in sensor on the card's surface."
Benefits for Merchants
"Card issuers see the potential benefits for merchants. In the first place, the biometric cards work with existing EMV payment terminals that already accept chip cards. Thus, merchants have no need for expensive hardware upgrades. Further, the increased security should increase consumer confidence and reduce the possibility of credit card fraud."
Retail Technology Partner
eMazzanti works with retailers across the globe to combat digital threats and capitalize on emerging technologies. As an active member of the PCI Security Standards Council, eMazzanti retail business leaders fully implement, integrate and monitor POS technology. With EMV integration, they can accept biometric credit cards and other contactless payment methods.
Have you read?
Ransomware Insurance Coverage Disappearing, Not Enough for Robust Cybersecurity
Growing Businesses Start Simply with a Path for Expansion on RapidStart CRM
About eMazzanti Technologies
eMazzanti's team of trained, certified IT experts rapidly deliver increased revenue growth, data security and productivity for clients ranging from law firms to high-end global retailers, providing advanced cybersecurity, retail and payment technology, cloud and mobile solutions, multi-site implementations, 24×7 outsourced network management, remote monitoring, and support.
eMazzanti has made the Inc. 5000 list 9X, including eight consecutive years, is a 4X Microsoft Partner of the Year, the #1 ranked NYC area MSP and NJ Business of the Year! Contact: 1-866-362-9926, info@emazzanti.net or http://www.emazzanti.net Twitter: @emazzanti Facebook: Facebook.com/emazzantitechnologies.