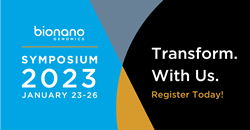 SAN DIEGO (PRWEB) January 20, 2023
Bionano to host their virtual Symposium, from January 23rd to 26th on the Labroots platform.
At Bionano's virtual Symposium, expect to hear from 25+ global experts sharing how they drive discovery across multiple applications with optical genome mapping (OGM). Learn from various presentations, engage in live Q&A, and view posters with the latest scientific research! Join Bionano at this four-day symposium featuring various industry-expert speakers.
Event Topics include:

Hematological Malignancies
OGM is revolutionizing the analysis of genomic variation in hematological malignancies. Learn how researchers are using new tools to find more pathogenic chromosomal aberrations and more.
Hear how experts are complementing NGS with OGM to unlock a broader spectrum of genetic variants, generate a more complete cancer genome profile, and discover new actionable biomarkers.
Constitutional Genetic Diseases
This topic will dive into how analysis of structural variation is increasing the likelihood of finding actionable pathogenic variants to solve unresolved cases, even after exome sequencing.
Whether you are working with producer cell lines, research cell lines, or cell therapy applications, ensuring the genomic integrity and stability of your cell lines is of critical importance. See how OGM can outperform traditional cytogenetic methods to enable efficient screening of cell lines for genomic instability and off-target events.
To register for the event, and view the agenda, click here.
About Bionano
Bionano Genomics is a provider of genome analysis solutions that can enable researchers and clinicians to reveal answers to challenging questions in biology and medicine. The Company's mission is to transform the way the world sees the genome through OGM solutions, diagnostic services and software. The Company offers OGM solutions for applications across basic, translational and clinical research. Through its Lineagen business, the Company also provides diagnostic testing for patients with clinical presentations consistent with autism spectrum disorder and other neurodevelopmental disabilities. Through its BioDiscovery business, the Company also offers an industry-leading, platform-agnostic software solution, which integrates next-generation sequencing and microarray data designed to provide analysis, visualization, interpretation and reporting of copy number variants, single-nucleotide variants and absence of heterozygosity across the genome in one consolidated view. For more information, visit http://www.bionanogenomics.com, http://www.lineagen.com or http://www.biodiscovery.com
Bionano's OGM products are for research use only and not for use in diagnostic procedures.
About Labroots
Labroots is the leading scientific social networking website, and primary source for scientific trending news and premier educational virtual events and webinars and more. Contributing to the advancement of science through content sharing capabilities, Labroots is a powerful advocate in amplifying global networks and communities. Founded in 2008, Labroots emphasizes digital innovation in scientific collaboration and learning. Offering more than articles and webcasts that go beyond the mundane and explore the latest discoveries in the world of science, Labroots users can stay atop their field by gaining continuing education credits from a wide range of topics through their participation in the webinars and virtual events. Now, Labroots offers more than ever with Chati, a flexible, highly scalable event platform that allows for the creation of unique, effective, and memorable virtual events.