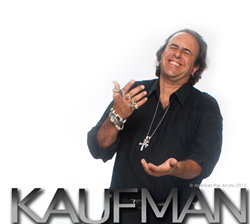 LONG BEACH, N.Y. (PRWEB) August 22, 2018
The cinematic portrayal of pop-artist Steve Alan Kaufman, (aka SAK), and his artistic ventures are being developed for the big screen. Diana Vachier and Dana Blum of Steve Kaufman Art Licensing, LLC. and producer, Terry Wilkerson have agreed to produce the film about this larger than life artist.
The Kaufman project will explore Steve's tremendous passion for his art along with his struggles, disappointments, successes and brilliance. It will reveal everything from his early years in New York, where he learned silk screening as assistant to Andy Warhol to his illustrative work for Warner Bros. in California.
"Steve's story must be told. His history, uniqueness, adventures, his crazy sense of humor and great storytelling," said Vachier of Steve Kaufman Art Licensing, LLC. "The everyday drama of his life's experiences alone makes for an epic movie. And being as protective of Steve's legacy as we are, we can say, we are totally confident with putting his story into the hands of writer and producer, Terry Wilkerson."
Kaufman was a humanitarian and pioneer of Neo Pop Art. His work stirred the American spirit. The charismatic style of mixed media prints Kaufman created encompass beloved entertainers and icons from all walks of life. He collaborated with legendary greats including Stan Lee, Muhammad Ali and Marilyn Monroe's estate among many others.
"This film has been in the making for over a year," said Blum, Director Sales and Marketing of Steve Kaufman Art Licensing, LLC. "We're excited to provide Terry with the history and art of Steve in telling his story."
Terry Wilkerson has spent a lifetime in the entertainment industry, from his early years of acting and productions to producing music videos, writing and producing feature length films. His projects include Da Sweet Blood of Jesus (2014), The Last Scout (2017), Post Traumatic (2018) and The Father Complex (2019.)
About American Pop Art Inc.
American Pop Art Inc., established in 2000 and incorporated in 2005, and Steve Kaufman Art Licensing LLC, established in 2012 is honored and proud to work exclusively with the art of Steve Kaufman. Owner, Diana Vachier, was friend and former assistant to Steve Kaufman, and is the sole heir to the artist's licensing rights. They also hold the registered trademark for the STEVE KAUFMAN (SAK) CATALOGUE RAISONNÉ ®, an ongoing, comprehensive project that will document all known works by Steve Kaufman.
Steve Kaufman passed away in 2010 at the age of 49, but his art continues to be exhibited, placed into museums, homes and corporations.
This information may be used as a source of reference by collectors, galleries, and auction houses.
http://www.americanpopartinc.com
http://www.stevekaufmanartlicensing.com
Contact:
Diana Vachier
Owner, American Pop Art Inc. and Steve Kaufman Art Licensing LLC
dianavachier(at)stevekaufmanartlicensing.com
1+516-509-4676
Contact:
Dana Blum
Director Sales and Marketing, American Pop Art Inc. and Steve Kaufman Art Licensing LLC
dana.blum(at)stevekaufmanartlicensing.com
Cell 1+415-419-7137
Contact
Terry Wilkerson
Producer
Represented by Brandon Kjar of Kjar and Associates
brandonkjar(at)earthlink.com
Cell 1+ 818-760-0321