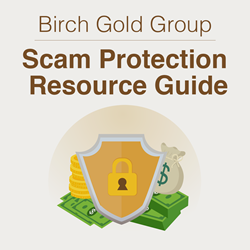 We believe that our guide serves as one of the most thorough and comprehensive resources out there for investors who want to educate themselves.
BURBANK, Calif. (PRWEB) February 22, 2019
As an organization that believes in educating Americans to help them build financial success over a lifetime, Birch Gold Group is pleased to announce the release of the Birch Gold Group Scam Protection Resource Guide, available now at birchgold.com.
With the rise of the Internet and the availability to conduct almost every sort of financial transaction online in mere seconds, the ability of scammers to dupe innocent people out of their money has never been easier. Internet fraud is responsible for more than $100 billion in losses by companies and individual citizens each year in the U.S.
This comprehensive online manual is consumers' chance to arm themselves with the information required to fight back.
WHAT'S INSIDE
The Birch Gold Scam Protection Resource Guide's expansive list of topics includes, but is not limited to:

Warning signs of a scam
The most common types of fraud
How to avoid being the victim of a ripoff
An infographic detailing prominent scams
A video that details how to avoid being the victim of fraud
Peter Reagan, Financial Market Strategist at Birch Gold, said the guide's inspiration came from the precious metals company's own look into how to protect against fraud.
"After kicking off our research, we found many other online resources that provided some solid, foundational information," Reagan says. "However, almost all went just one or two layers deep, so they felt incomplete to us. We believe that our guide serves as one of the most thorough and comprehensive resources out there for investors who want to educate themselves."
THE POWER OF EDUCATED CUSTOMERS
Releasing the Birch Gold Group Scam Protection Resource Guide aligns with the company's philosophy of educating its customers to make informed decisions.
The guide isn't limited to the fraud and online scam worries of 2019. Because it exists online, it is a living, changeable document. Birch Gold Group will add ongoing updates with alerts to the newest scams as they come into play, meaning that the guide will be a perfect resource for battling fraud both today and tomorrow. It also includes links to third-party resources that offer additional information on modern-day Internet scams and how to recognize, avoid, and report them.
The major scams listed aren't just given in theory. Incorporating extensive research, Birch Gold Group brings them to life with historical looks at how they were executed in the past to rip off investors for millions.
"In our first outline for the guide, we identified the nine prominent scams that we really wanted to shed light on. We felt strongly about them, but we also had a sense that we needed to bring life to them," says Reagan. "That's when we came up with the idea of highlighting real-life examples for many of these scams, including Bernie Madoff's scheme and how 'The Wolf of Wall Street' pulled off his. We believe that these simple additions will make that section of the guide much more impactful for readers."
The full version of the guide is available here: https://www.birchgold.com/scam-protection-resource-guide/
ABOUT BIRCH GOLD GROUP
In business since 2003 and headquartered in Burbank, California, Birch Gold Group has served thousands of customers by helping them diversify their savings, including retirement accounts, with physical gold and silver. The precious metals dealer has an A+ rating from the Better Business Bureau, is a Consumer Affairs accredited brand and has a track record of customer success.