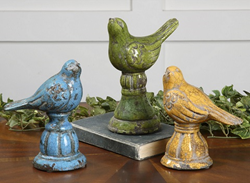 Faux bird's nests and ceramic bird figurines are easy to nestle in amongst existing decor items, and are a great way to add a little touch of spring to a room.
(PRWEB) May 08, 2014
HomeThangs.com – the Online Home Improvement Store has made their goal to deliver the right product to the consumer. With that in mind, shopping and home design tips, as well as special product selections are being introduced.
Birds are one of the traditional first signs of spring, ranking right up there with fresh blooming flowers. That means that little mementos of birds are perfect for a spring decor. HomeThangs.com has introduced a guide to a few types of items that use the ubiquity of spring birds to create a fresh, springy feel without going all-in on the pastels and floral prints.
Nests
Maybe one of the simplest and most popular ways to add a little avian touch to a spring decor is with decorative birds nests. These can be big or small, and used as anything from a table centerpiece to a small ornament. These petite nests can easily be tucked in around the existing decor, adding a little visual surprise and a touch of spring, even if without any other major changes.
Bird Cages
Similarly, old fashioned or antique bird cages make fantastic spring accent pieces. They don't have to contain a real bird, of course, but should have a little stylistic flair: think gramma's bird cage, not one from the local pet store. An authentic, aged antique finish works perfectly here, but painting the cage in a bright, bold color can be even more eye-catching.
Statuary
Like tiny birds nests, small ceramic bird figurines are easy to nestle in amongst existing decor items. Replacing one item in a small cluster with a decorative bird is a great way to add that little touch of spring, while smaller ones scattered throughout the house can make a nice visual surprise. It's also easy to find practical decor items (like candle holders, jars, vases, boxes, or book ends) that feature bird designs and make for a perfect, sneaky way to incorporate birds into a spring decor.
Prints
Of course, there's always also the easy way: simply hang up pictures, prints, or paintings of birds (or nests or bird cages, for that matter) on the wall. When choosing art, though, avoid colors that are very intense or dark. Pastels can work, but for a subtler look opt for pieces with a lighter, sketchier quality. Antique scientific drawings and other sketchy, smudgy drawings are popular right now, particularly as part of a cottage, French country, or industrial style.
3D art
Heftier wall art, like pieces made of wood or metal, can work really well too. These are good options for a space that needs a single, assertive piece to act as a visual focal point. Pieces made with wood have a nice rustic, hand-hewn quality that can lend a touch of earthiness to a spring decor, while pieces made with thinner pieces of metal or wire (especially ones that make elegant use of white space) are a great way to draw attention to colorfully painted walls.
Lighting Fixtures
Last but not least, there are a growing number of bird-themed lighting fixtures on the market. Floor lamps and table lamps are easy to swap out, and usually have bases designed like tree branches and adorned with tiny metal birds. Pendant lights tend to be a bit more abstract, designed to look like old fashioned bird cages or even inverted egg baskets. These are both a bit trickier to install and more permanent, but are also a little less overtly springy, so it wouldn't be unreasonable to leave them in place year round.
To see more ways to incorporated bird-themed items into a spring decor, check out the full article here.
HomeThangs.com is not only a home improvement superstore, it also provides expert design tips and a comprehensive shopping guide, taking the ideas from professional interior designers, and offering tips to the consumers on how to pick the products to best suit their needs.