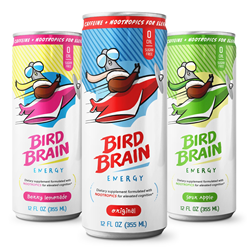 "WOW this drink is awesome!!" - Completely made up quote from fake person
CHICAGO (PRWEB) July 28, 2020
Bird Brain Labs has released a line of Nootropic Infused Energy Drinks designed to make people's brains suck less. While primarily targeted to a workplace/office use case, the company realizes that bad brains are everywhere. By leveraging a funny, relatable, and sometimes irreverent marketing style they hope to reach some of those Neanderthals and introduce them to the world of Nootropics.
The company just recently launched on their website http://www.birdbrainenergy.com in 4-pack, 12-packs, and 24 packs. Currently they have three original flavors available (Original Citrus, Berry Lemonade, and Sour Apple). All drinks are zero calorie and zero sugar with no artificial colors, preservatives, or sweeteners. The drinks contain 150 mg of caffeine, plus nootropics like Alpha GPC (150 mg.), Tyrosine (500 mg.), Carnitine (500 mg.), Theanine (25 mg.) and plenty of B-Vitamins.
"Wow this drink is awesome!!"
Completely Made up Quote from Fake Person
About Bird Brain Labs: Bird Brain Labs was founded about 60 days ago with a focus on creating nootropic infused RTD beverages to make people's brains suck less. They do not take themselves too seriously (as evidenced by this press release), but they have a seriously important mission: to improve society's mental health and performance. Not only are their drinks infused with ingredients aimed at improving brain health, they also donate 5 cents per can to various mental health related causes. Don't tell that to their customers though - to them, they are founded by a pigeon that knows how to fly airplanes (work smarter, not harder amirite??). As you can imagine, a company run by a bird is hemorrhaging cash and desperately needs people to buy their products. In return, they are dedicated to making their customers brains suck less one drink at a time.
Signed,
Chairman of the BORED
contact@birdbrainenergy.com