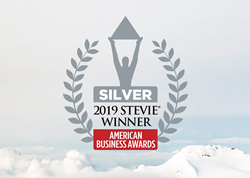 "We are proud to receive this honor from the American Business Awards," said Neeraj Gupta, COO of BirdEye. "We are committed to being the most comprehensive all-in-one SaaS platform for customer experience management, trusted by over 50,000 businesses."
PALO ALTO, Calif. (PRWEB) May 07, 2019
BirdEye was named the "Most Innovative Tech Company", winning its second Stevie Award in The 17th Annual American Business Awards. BirdEye had previously been honored with a Stevie Award for "New Product of the Year" for Athena, BirdEye's natural language processing (NLP) engine.
There were 3,800 nominations from across the world, judged by more than 200 business executives. The judges' average scores determined the winners.
"We are proud to receive this honor from the American Business Awards," said Neeraj Gupta, COO of BirdEye. "We are committed to being the most comprehensive all-in-one SaaS platform for customer experience management, trusted by over 50,000 businesses."
Some of the recent product innovations launched by Palo Alto-based BirdEye include the BirdEye score for review authenticity, unified messaging for multi-location businesses, advanced reporting, enterprise campaign management, competitive secrets, integrations with 1,000+ CRMs.
This recognition came less than a month after BirdEye was named the market leader in online reputation management by G2 Crowd. A full list of awards won by BirdEye can be found here.
BirdEye's suite of products includes review monitoring, review generation, review marketing, customer surveys, social listening, social publishing, social engagement, customer support ticketing, listings management, webchat, business insights, and competitive benchmarking. None of BirdEye's competitors are able to offer this sort of comprehensive all-in-one platform to their customers.
"The nominations submitted for The 2019 American Business Awards were outstanding. The judges found the competition to be intense, and those recognized as Stevie Award winners should be immensely proud of this accomplishment," said Michael Gallagher, president and founder of the Stevie Awards.
Details about The American Business Awards and the list of 2019 Stevie winners are available at https://stevieawards.com/aba.
About BirdEye
BirdEye drives business growth by getting new reviews and improving customer experience. Businesses use BirdEye to manage their reviews, be found online, gather customer feedback, improve operations and increase revenue.
Founded in 2012, BirdEye is headquartered in Silicon Valley and led by alumni from Google, Amazon and Yahoo. In 2019, BirdEye was ranked #60 in the "100 Best Software Companies" in the world by G2 Crowd. BirdEye is backed by Salesforce founder Marc Benioff, Yahoo co-founder Jerry Yang, Trinity Ventures and World Innovation Lab.
Learn more about BirdEye at https://birdeye.com
About the Stevie Awards
Stevie Awards are conferred in seven programs: the Asia-Pacific Stevie Awards, the German Stevie Awards, The American Business Awards®, The International Business Awards®, the Stevie Awards for Women in Business, the Stevie Awards for Great Employers, and the Stevie Awards for Sales & Customer Service. Stevie Awards competitions receive more than 12,000 entries each year from organizations in more than 70 nations. Honoring organizations of all types and sizes and the people behind them, the Stevies recognize outstanding performances in the workplace worldwide.
Learn more about the Stevie Awards at http://stevieawards.com