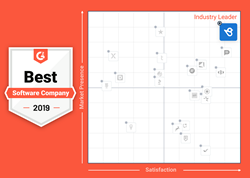 "We are proud to receive the #1 leader in Online Reputation Management recognition from businesses using BirdEye," said Naveen Gupta, CEO of BirdEye. "Everyday, we help thousands of businesses, to be the best business. Today, it feels great to be the best business ourselves."
PALO ALTO, Calif. (PRWEB) April 12, 2019
BirdEye has been identified as the #1 leader in the category of Online Reputation Management, ahead of 26 competitors in the space in the recently-released G2 Crowd Spring 2019 Report. In total, BirdEye received 13 awards in 4 different categories.
BirdEye won the Leader Award in Online Reputation Management (in the Enterprise, Mid-Market and Small Business segments), in Enterprise Feedback Management and Live Chat and a High Performer Award in Surveys. Earlier this year, BirdEye also placed in the top 100 best software companies in the world.
"We are proud to receive this recognition from businesses using BirdEye," said Naveen Gupta, CEO of BirdEye. "Everyday, we help thousands of businesses, to be the best business. Today, it feels great to be the best business ourselves."
The verdict is clear: BirdEye's customer experience platform has been chosen as the best way to capture, analyze and promote customer feedback from a single dashboard. BirdEye's suite of products includes review monitoring, review generation, review marketing, customer surveys, social listening, social publishing, social engagement, customer support ticketing, listings management, webchat, business insights, and competitive benchmarking. This comprehensive range of offerings is unmatched by any of BirdEye's competitors, and no other company managed to place this high in all of these different categories at the same time.
Here is a complete list of all the awards that BirdEye received in G2 Crowd's Spring 2019 Report:
Online Reputation Management Awards

Overall Leader Award
Small Business Leader
Mid Market Leader
Enterprise Leader
#1 Small Business - Best Relationship
Enterprise Feedback Management Awards
Survey Awards
High Performer Award
Small Business High Performer
#1 for Usability
#1 Recommended by Users
#1 Best Results
Live Chat Awards
Leader Award
Small Business Leader
The Spring 2019 Report is based on G2 Crowd's proprietary algorithm that calculates global rankings based on overall customer satisfaction, ease of doing business with, market presence, likelihood to be recommended and number of reviews.
These awards underline BirdEye's preeminent position in the global marketplace when it comes to leveraging the power of reviews and improving customer experience. Currently serving more than 50,000 businesses in 8 countries, BirdEye is poised for high growth in 2019 and beyond.
For more information, please visit birdeye.com/awards/
About BirdEye
More than 50,000 businesses use BirdEye to stay on top of customer feedback. BirdEye's all-in-one platform helps businesses get new reviews, improve customer experience, be found online, and increase revenue. Founded in 2012, BirdEye is headquartered in Silicon Valley and led by alumni from Google, Amazon, and Yahoo. In 2019, BirdEye was ranked #60 in the "100 Best Software Companies" in the world by G2 Crowd. BirdEye is backed by Salesforce founder Marc Benioff, Yahoo co-founder Jerry Yang, Trinity Ventures and World Innovation Lab.
To learn more, please visit: https://birdeye.com